Classes
Siere Munro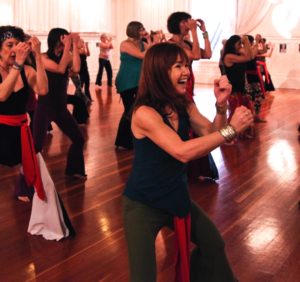 Mondays & Wednesdays
9:00am - 10:00 am

$15 drop-in, cash or check
Class Pass: 5 classes for $50
Nia is an expressive body-mind-spirit movement program that offers an artistic and innovative approach to fitness and healing. Blending aspects of Martial Arts, Dance Arts, and Healing Arts, Nia provides a variety of movement dynamics to create an experience that involves body and spirit. The use of eclectic, rich music, guided imagery, powerful kinesthetic cues, and heart-felt joy add to the full experience of a Nia class. Every class guides students to mindfully focus on sensation in their body while listening and dancing to music. Each class has its own kind of magic that fosters personal creativity and expression. Nia is practiced barefoot. Every class is adaptable to individual needs and abilities, with movers empowered to explore a variety of intensity levels and ways to modify movements to safely condition their bodies. Beginners welcome.
For more information, please contact Siere: siere.munro@nianow.com
Siere Munro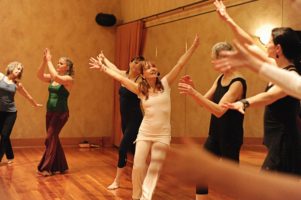 Tuesdays
10:00am - 11:00 am

$15 drop-in, cash or check
Class pass: 5 classes for $50
Moving to Heal is "Movement as Medicine" and is for anybody seeking a gentler movement practice to compliment and facilitate the healing of body, mind, emotions, and spirit. "Healing" as defined by Nia is defined simply by "I feel better." Moving to Heal teaches people to listen to the voice of the body, sensation. Through sensation, participants learn how to adapt movements to support their comfort and health needs. Classes include soothing, rhythmic soundscapes and simple choreographed movement, shared in an atmosphere of safety and trust. Chairs are made available for students to utilize for maximum stability, pleasure, and comfort. The focus on adapting personalized, self-healing, movement results in increased body awareness, and overall improvements of wellness, regardless of diagnosis. Beginners welcome.
For more information, please contact Siere: siere.munro@nianow.com
Michael Helgeson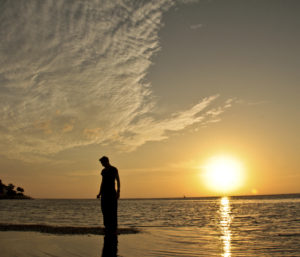 Tuesdays
5:45pm - 6:45 pm

Full 6-week course: $75
Drop in fee: $15
*Free class: August 7
Parking in the A-Boy parking lot is permitted during these Tuesday offerings. A parking permit provided by SomaSpace is required. Please read the parking regulations on our
Contact
page before arriving.
In this class, the fundamental skills of a Qigong energetic practice are transmitted. The objective is not to anchor you to the class itself, but rather to empower each student with all the skills, tools, and confidence they need to cultivate a powerful personal practice for themselves.
Students will be lead into a meditative/"Qigong" state of mind, then taught a variety of simple physical movements that, when done in a state of relaxed awareness, facilitate a gentle internal flow of intrinsic energy. No athleticism is required. Once we've tapped into this energy, we learn to relax the mind, step aside, and let that energy flow naturally and unfettered throughout the body; nourishing, increasing vitality, clearing out stuck energy and stagnation, and facilitating healing on whatever level the student most needs and is open to.
The practice itself is profoundly simple in action, as is typical of Zen traditions such as this one. There is great power in that simplicity. Some minor benefits beginners can expect from this Qigong practice are:
~Feeling bright, calm, and refreshed
~Feeling remarkably energized, yet relaxed
~Increased physical and emotional groundedness
~Increased mental freshness and clarity of mind
~A gradual release of systemic tension and stress
~Increased physical vitality
~A greater capacity for compassion and forgiveness
~The ability to smile from the heart
~Feelings of joy and bliss at being alive in your own body
Some of these benefits may sound remarkable, but that is only because of our perspective. The Qigong perspective is that these benefits are just a return to the natural state of being alive. Being healthy and happy is our natural state! We simply need to remove the impediments to health and vitality that have developed throughout our lives. We use the flow of intrinsic energy to accomplish this.
As students progress and deepen their level of practice, even greater benefits open to them. This class will equip you with all the fundamental skills and knowledge needed to begin and sustain your own personal journey with Qigong.
*Course Details*
Any level student is welcome to drop in on any class. However, the introductory course will be on a 6-week cycle, and when possible it is recommended to complete the 6-week cycle from start to finish, as each class will build upon the previous classes.
On August 7th, we will have a free class for anyone that is curious to experience a little taste of what this Qigong has to offer. There will be some discussion on what Qigong is, how it works, what is required to practice it, and what benefits students can expect from their practice. If you or anyone you know is curious, please come by! You won't be disappointed.
The next 6 week cycle will begin on June 26th and conclude on July 31st.
The following 6 week cycle will begin on August 28th and conclude on October 2nd.
Yongey Mingyur Rinpoche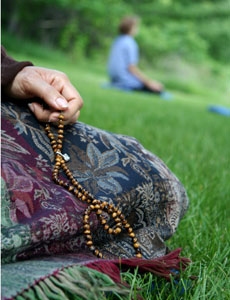 1st & 3rd Tuesdays
7:15pm - 9:00 pm
Free

4th Sundays
1:15pm -4:00 pm
Free
Parking in the A-Boy parking lot is permitted during these Tuesday offerings (not Sunday offerings). A parking permit provided by SomaSpace is required. Please read the parking regulations on our Contact page before arriving.
Explore meditation and the fundamentals of Buddhist practice
1st and 3rd Tuesday evenings of each month
7:15pm – 9:00pm
We explore Mingyur Rinpoche's teachings with the support of our Tergar community of practitioners, and the guidance of a comprehensive meditation group curriculum. This curriculum, based on Mingyur Rinpoche's books, The Joy of  Living and Joyful Wisdom, covers the core teachings of the Joy of Living program and includes guided meditations, experiential exercises, and questions that foster group discussion. Sessions are held on a drop-in basis. There are no prerequisites for attending our group meeting. All are warmly welcome!
4th Sunday of the month group meeting
1:15pm – 4:00pm
Consists of two sessions. Participants are welcome to attend one or both sessions.
First session, 1:15pm – 2:45pm ~ a group meeting focusing on Mingyur Rinpoche's teachings using our Joy of Living curriculum based on Rinpoche's books, The Joy of Living and Joyful Wisdom. Our meeting includes guided meditations, experiential exercises, and questions for group discussion. We enjoy a short tea break together before our 2nd session begins.
Second session, 3:00pm – 4:00pm ~ an opportunity for us to come together as a community for formal meditation practice. Our practice schedule is divided into two 25-minute sitting sessions with walking meditation in between.
For more information, please contact Group Coordinators Lyle and Diane McQueen-Smith:
portland@tergar.org / www.tergar.org/portland
Carlton Grew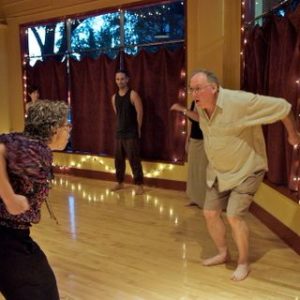 Wednesdays
7:30pm - 9:30 pm

$10 drop-in, cash
Parking in the A-Boy parking lot is permitted during this offering. A parking permit provided by SomaSpace is required. Please read the parking regulations on our Contact page before arriving.
Playful improvisational theater class to inspire spontaneity & creativity
This session is based on Scott Kelman's form of body-centered improvisation. Kelman was a practitioner and teacher of alternative theater and improvisation for over 50 years, a celebrated director in LA who taught in Portland from the 1990's until his death in 2007. He created a body-centered form of improvisation and presence in which participants explore with abandon within defined constraints.
The form consists of structured exercises and play using mindfulness, observation, physical precision, discovered physical impulses, vocalization, speech and observation, and empathy and engagement with others. The result is to fully experience and inhabit every moment and express the creativity generated by those moments, alone or in ensemble. Kelman's work cultivates fresh, deep creativity and authenticity.
The work can be a creative adventure, spiritual exploration, a magical fusing of an ensemble, or simply a collection of fully lived moments. It is also Big Fun.
Whether you are a daydreamer, writer, singer, dancer, or simply a curious person seeking to live more fully, Kelman's work will enhance your creativity and add another level to your experience of your art and your daily life.
For more information, please contact Carlton: nwrain99@yahoo.com
Sacred Circle Dance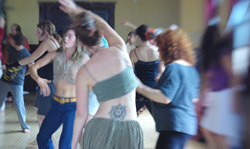 Thursdays
7:30pm - 9:00 pm

$10 drop-in, cash or credit
Parking in the A-Boy parking lot is permitted during this offering. A parking permit provided by SomaSpace is required. Please read the parking regulations on our Contact page before arriving.
Spiritually-Based Community Dance
Sacred Circle has been meeting to dance together in Portland for over a decade. We are a warm and welcoming group of dancers who love to create something really special together.   We encourage people of all ages and abilities to sink into their body in the safe, beautiful and sacred community-created space, to gather and create an beautiful interaction where music and movement happen, and while each person comes into the space with their own story, their own needs, their own reasons to be there — there is one thing we all share — and that is the love of the dance!
This is a free form dance, you create the experience by how you engage with your body, with other dancers and with the music. There are no set moves, just be safe and kind to your body and respectful those around you and have fun.  This is a great space to practice being unabashedly in your body.
For more information, please visit the Sacred Circle Dance website.
Jacqueline Rubinstein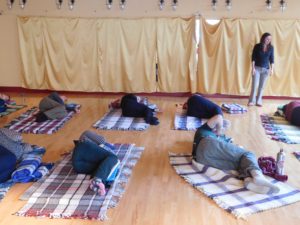 Fridays
10:00am - 11:00 am

**2018 Summer Class Series**

Summer Class Series Dates:
June 29
July 6, 20, 27 (No class July 13)
August 3, 10, 24, 31 (No class August 17)
Time: Fridays, 10:00am – 11:00am*
Cost: 
8-week Summer Class Series (in-person and recordings): $96
8-week Summer Class Pass On-line (recordings only): $58
Walk-in to any class: $15/drop-in
Gentle Movement & Awareness Exercises with the Feldenkrais Method
Chronic pain and injuries influence every aspect of life. Conscious and unconscious limits are placed on your ways of being in the world. Your dance is constrained. Your mind is busy protecting you, restricting your freedom of expression, closing in your world.
You may be acutely aware of the limitations or you may have adjusted to this restricted way of walking through life. Either way, come remember how you use to feel ~ strong, comfortable, flexible, loose, free, & effortless!
In this class, you will experience carefully crafted, gentle movement sequences that will relieve your pain and give you invaluable, surprising insights into your movement and thought patterns.
These exercises are designed to communicate directly with your Nervous System, making the changes you feel not just a temporary fix, but a fundamental improvement in your movement habits. These new movement patterns will be so delicious to your brain and Nervous System that you will find them immediately, subconsciously integrated into your daily life.
If you are ready to:
Eliminate aches and pains, and move more easily.
Improve your co-ordination, posture and flexibility.
Restore lost function.
Find relief from stress, and the tools for psychological growth.
Attain greater ease and pleasure in all your physical activities.
Improve the fitness and agility of your brain at any age.
Gain renewed physical vitality, health and emotional well-being.
Then, come learn how your Nervous System is your best ally in feeling better in an effective, quick, and lasting way! Gain the tools to be a powerful agent in your own healing and on-going comfort.
For more information, please contact Jacqueline: jacqueline@somaspace.us / 971.258.1885
For more info about this class offering: feldenkraisportland.com/healing-chronic-pain/
**2018 Summer Class Series**

Summer Class Series Dates:
June 29
July 6, 20, 27 (No class July 13)
August 3, 10, 24, 31 (No class August 17)
Time: Fridays, 10:00am – 11:00am
Cost: 
8-week Summer Class Series (in-person and recordings): $96
8-week Summer Class Pass On-line (recordings only): $58
Walk-in to any class: $15/drop-in
To Register for the Summer Class Series:
*Also, available for on-line subscription ~ you can take this class anywhere, at any time that works for you!
To Register for the Audio Recordings Only:
Siere Munro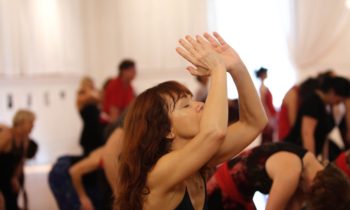 4th Sundays
10:30am - 12:00 pm

$15 drop-in, cash or Paypal (at the door) Sorry, no checks
Class pass: 2 classes for $25: must be used in 2 consecutive Sundays.
Dance for 2 $25, at the door  when you bring a friend
Dance as Prayer is a three-part conscious dance program, cultivating opportunities for connecting to the embodied spirit through a personalized movement experience.
1.   The Asking~ Participants are guided through a moving meditation to cultivate a focus from within; allowing movement to come from the places in ourselves our thoughts have not reached.
2. The Honoring ~ To receive our own movement as it comes to us, without trying to make it be different, is to honor our being as we are in the moment, without judgement. Participants are given time and space to explore the personalization of movement expressions.
3. The Offering ~ Participants are invited to share this dance in partnership and in community.
DJayed music and simple verbal guidance create a safe space within this format.  The facilitator will advocate for each participant in support of moving into the dance at exactly their own pace and comfort level.  All are welcome to attend.
For more information, please contact Siere: siere.munro@nianow.com
Audrey Steele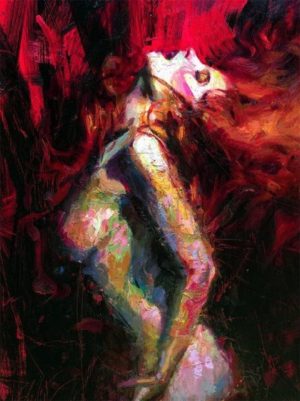 4th Sundays
6:00pm - 8:00 pm

$15 – 20 sliding scale, drop-in, cash only
Parking in the A-Boy parking lot is permitted during this offering. A parking permit provided by SomaSpace is required. Please read the parking regulations on our Contact page before arriving.
A Sensual Ecstatic Dance Class For Women
Move the Earth is about repossessing our wild feminine, reclaiming our sexuality and freeing our creativity.  When we allow this, we begin to cultivate our limitless power.
Women hold immense power in our creative centers (aka: our second chakra or our womb space), but we are often in conflicting relationship with this place due to the immense cultural programming and collective trauma we all carry in and around our sexuality. We can feel hopeless, detached, numb, or like we are "too much." This keeps us from having the lives we want and the kinds of relationships and sex we want. It keeps us from pursuing our dreams and embracing our talents. It holds us back from being the powerful women we are in our lives.
Reclaiming our sexuality is imperative if we wish to find any sense of freedom, or power within ourselves. 
The emphasis of this series will be on developing healthy relationship with Self.
Each class in this series will be a journey diving into, and deeply exploring, our sensual expression through dance.  We will practice listening to our body, to what it desires, and to how it most authentically wishes to express that. In doing so, we will begin to reprogram our limiting thought and action patterns into more empowered ways of being.
WOMEN ONLY…
In order to eliminate the confusion, fear, frustration, and distraction that can sometimes occur in other mixed-gendered, conscious-dance practices, this class is offered to women identified people only. The goal is to create a safe container where we get to play with this energy and express our sensuality freely. It is not about performing, looking good or pleasing anyone but YOURSELF.
What to expect …
Movement…  A large portion of the class will be our movement practice where you will be supported and encouraged to invite your sexual energy out on to the dance floor.
Depth… We will practice simple guided meditations connecting us with our womb space and with the energy of the earth.
Reflection… At times we will have the opportunity to share and reflect our experience with others and with the group.
Challenge…While this class will be focused on developing deeper self-love, it will include pushing ourselves a little outside our comfort zones.
Fun…It doesn't always have to feel like drudgery!  We will have loads of fun in this class!
The 7 phases of Move The Earth…
Like 5-Rhythms, the music will create a "wave," meaning, there will be a variety of music intended to evoke different flavors of our creativity, and authentic expression.  However, in this class they are specifically designed to evoke our sensual and sexual energies, sometimes referred to as Kundalini, Shakti or orgasmic energy.  Our playlists use a variety of music including pop, hip-hop, electronic, vintage, blues, jazz, powerful female artists and much more…
The 7 phases are: Depth, Opening, Confidence, Wild and Fierce, Grind and Grit, Play, Tenderness 
What to Bring and Wear…
Please dress comfortably… AND you are also encouraged to dress in a way that feels sexy!  What ever that means to you. This class is not about looking good, it's about feeling good. But it is also about pushing your comfort zone in order to discover how your sensuality would like to express itself.  It is an opportunity to turn a regular dance class into a living art experience!  Have fun with it!
See you on the dance floor!
For more information, please contact Madam Steele: www.audreysteele.com
Ben Rosen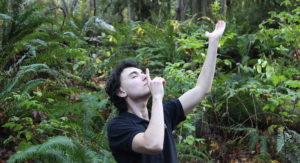 Wednesdays
6:00pm - 7:00 pm

First class is free to try out!
$15 drop-in, cash, check or credit card
Class pass: $60 for 5 classes; $100 for 10 classes
Sliding scale rate available upon request.
Parking in the A-Boy parking lot is permitted during this offering. A parking permit provided by SomaSpace is required. Please read the parking regulations on our Contact page before arriving.
Increasing Health & Awareness
Qigong is a form of meditation originating in ancient China as far back as 5,000 years ago. Qigong was first created by the indigenous Taoist shamans of China as an art for self healing. Qigong has since become one of the five branches of Chinese medicine along with Acupuncture, Herbalism, Nutrition and Tuina massage. All aspects of Chinese medicine help to achieve energetic harmony within the body's network of energy points and channels. The practice of Qigong is a powerful way to naturally help correct and balance one's entire energy system promoting increased health for the practitioner.
Gift of the Tao Qigong is a unique form of Qigong created by Grandmaster Michael Lomax, lineage holder of the Stillness Movement Lineage. Master Lomax has trained extensively with both Taoist and Buddhist Qigong masters in China as well as Cherokee and Lakota Medicine Men here in the states. Gift of the Tao Qigong combines the energetic principles from all these energetic traditions. The result is a powerful and unique set of high level Qigong movements designed for optimal energetic cultivation.
For more information, please contact Ben: qiclinicpdx@gmail.com / www.qiclinicpdx.com
Jacqueline Rubinstein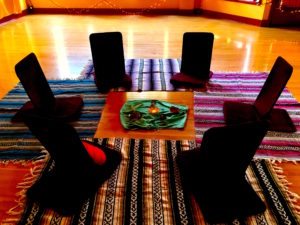 1st & 3rd Sundays
6:30pm - 8:30 pm

Door opens at 6:15pm *On Summer Hiatus, Returning September 16*
$5-15 sliding scale, drop-in, cash
Work-trade available, please contact us for more information. 
Parking in the A-Boy parking lot is permitted during this offering. A parking permit provided by SomaSpace is required. Please read the parking regulations on our Contact page before arriving.
Come However You Are
*Returning September 16 from Summer Hiatus, now on 1st and 3rd Sundays*
The SomaSpace Women's Circle is guided by the belief that gathering together with other heart-centered women is essential to your health, growth, and empowerment in these times when women must step up, be loud, and help guide the world back into harmony. The circle holds the value that all people are wisdom-keepers with unique talents, perspectives, and richness to share. When you take the time to sit in circle with other women, sharing from your heart, getting real and raw, renewing your strength and power, and exploring new realms of thinking and being, it is a gift to the healing Earth, as well as to yourself and the community.
The flow of new women and regulars at this circle creates a unique blend of new energy and grounded, deepening experiences together. Each week, the unique group that has gathered opens their hearts to share the vulnerable truth of being alive in this moment and strengthen our capacity to be present and hold wide open, non-judgmental, loving space for others. Facilitation will be grounded, encouraging you to be present in your body and your inner light.
You are welcome to join the circle however you find yourself on Sunday evening; whether you are bursting with joy, grieving, feeling bleh, or any other number of things – You. Are. Welcome. Here!
Come experience the power of women coming together, being real, diving deep, and uncovering the truth of your heart and intuition.
Women across the vast gender spectrum welcome, including trans-women. Queer friendly space. Women of all ages welcome. Women across the vast race/ethnicity spectrum welcome. People of Color, refugees, and immigrants welcome.
For more information, please contact Jacqueline: jacqueline@somaspace.us / 971.258.1885
Check out this blog post from Jacqueline about her intention for Women's Circle!
Jennifer Alyse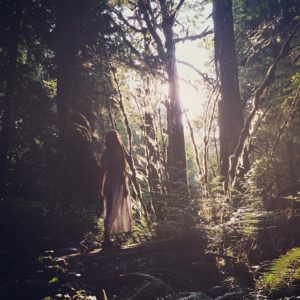 Tuesdays
7:00am - 8:00 am

September 18 – October 16, 2018
Early Bird Special: $75 if register by September 14
Regular Registration: $100 for the full series | $20 drop-in
A 5 week series for cultivating a daily creative practice
How do you begin your day?
What practices have you cultivated to lead your life from a place of inner wisdom?
 The way in which we begin our day impacts and ripples out to how we choose to engage with our world.
Welcome to Morning Ritual, a 5 week series where we cultivate tools for developing a daily creative practice and access the practice of listening to the wisdom within.
Through journal writing practice, creative visualization, breathing practices, and light movement, you will leave with tangible tools to deepen your intuitive, creative connection and be supported in your morning ritual.
We create a safe group setting for your greatest Self to be heard and to cultivate the powerful practices of developing a daily ritual.
All participants will receive their own journal, custom made booklet of Morning Ritual Practices, and accountability within an inspiring group setting.
"When you arise in the morning, think of what a privilege it is, To Be Alive, to Breathe, Think, To Enjoy, To Love." – Marcus Aurelius
*5 week series beginning September 18th
Dates:
September 18, September 25, October 2, October 9, October 16
To Register:
http://jenniferalyse.com/morningritual
Audrey Steele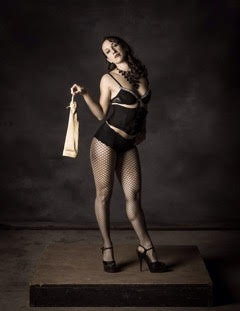 Thursdays, 5:30pm - 7:30pm, October 18 - December 6
5:30pm - 7:30 pm
$225

$175 early bird before September 18
Join us for an immersive and unique experience in sensual movement, strip-tease and seductive, burlesque-inspired performance.
​This class offers an opportunity to learn and develop your own powerful and authentic sensual self- expression.
Over the course of 8 weeks you will practice and learn:
How to command the attention of your audience

How to move seductively in a style that is all your own

How to tease effectively

How to improvise confidently

The tricks of burlesque style strip-tease and so, so much more.
​This class is designed to empower you and build your confidence enough to be show ready!  It will conclude with a class showcase where you will get to shine like the bright star you are!
​This class is open to all levels and body types and all female identified people.  Don't be shy! This is a SAFE space to play and grow.
For more information, please contact Madam Steele: