Practitioners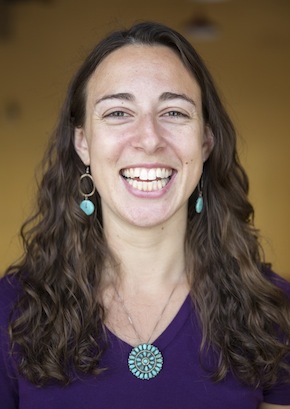 Intisar Abioto Photography
"Bring yourself into conscious movement, and you will find that new doorways spontaneously open to unseen possibilities."
Move with Ease: The Feldenkrais Method
Jacqueline Rubinstein is dedicated to creative, powerful, healing movement that makes you feel good. She has been a mover and a shaker in the Improvisational Dance and Feldenkrais Method scenes since 2004. She is the proud director of SomaSpace: Movement Arts & Healing Center, and Move With Ease, her Chronic Pain & Repetitive Injury Recovery Practice.
She has been dancing since 1994 and really fell deeply in love with the innovative and life-affirming world of Improvisational Movement in 2003. Completing a degree in Improvisationally-based Choreography at Wesleyan University gave Jacqueline a strong foundation in teaching creative movement to folks with diverse backgrounds. She has led hundreds of creative and somatic movement classes.
After a severe concussion and a pinched nerve, Jacqueline was incredibly blessed to find the Feldenkrais Method. Lost and frustrated after all the traditional Western forms of healing were insufficient, she tried an introductory Feldenkrais workshop on a whim, and she fell in love!
The powerfully gentle and insightful somatic education of the Feldenkrais Method has been an incredible learning journey, leading her to become a practitioner and open her Feldenkrais practice, Move With Ease, in Portland, Oregon in 2011. She also serves as the Outreach Director for the Feldenkrais Method Professional Training Programs.
She specializes in helping folks suffering from chronic pain and repetitive injuries to make foundational changes to their movement patterns creating fundamental, lasting relief in many aspects of their lives. For more information about Move With Ease, please visit: www.FeldenkraisPortland.com
Combining her passions for Improvisational Movement and the Feldenkrais Method, housed in the gorgeous SomaSpace studio, has been a dream come true! Balancing the gentle, slow, Ying-quality movements of Feldenkrais with the limitless, creative, Yang-quality movements of Improvisational Movement has brought great joy and healing to Jacqueline's life, and she looks forward to sharing her passion with you through her classes, events, and individual sessions.
Contact Jacqueline to book a FREE Feldenkrais assessment or jump right in with an individual treatment or class: jacqueline@somaspace.us / 971.373.4059