SomaSpace is available for rent on hourly or long-term basis, with amenities including:
A beautiful main space measuring 26′ x 34′ surrounded by candle sconces and one fully mirrored wall
A large reception area perfect for hanging out, salon-style events, expanding the dance floor, and potlucks/catering
Powerful, clear sound system
A generous changing room with plenty of space for student's belongings
A quiet lounging area for more intimate gatherings or as a place to decompress and integrate
Studio props, such as yoga mats, pillows, sheep furs, meditation pillows, 18 folding chairs, 30 backjacks, and more!
A kitchenette with microwave, toaster oven, fridge and filtered water
Fully set-up for events that will need a large table, tablecloths, and basic serving kitchenware
Two ADA bathrooms
Maximum patron capacity: 49
The studio is wheelchair accessible and one block from the MAX Hollywood Transit Center with free parking on the street.
Weekday Rental Rates
Weekday early morning rental, 5:00am-8:00am: $25/hour
Weekday daytime rental, 8:00am-5:00pm: $30/hour  (There are sound restrictions during these hours.)
Weekday evening rental, 5:00pm and later: $40/hour
There is a $5 hourly discount on weekday rentals for 6-month contracts.
Weekend Rental Rates
Weekend rental anytime: $40/hour
Multiple weekend rentals of 16+ hours/weekend: $35/hour
Terms
There is a two-hour minimum rental period for events starting at 7:30pm later any day of the week.
All private parties and events, regardless of when they occur, are $50/hour and have a non-refundable cleaning fee.
For all rentals, there is a refundable $250 security deposit.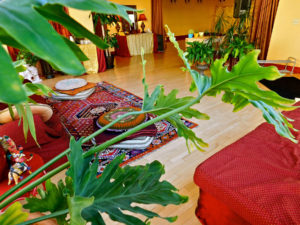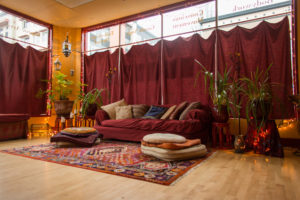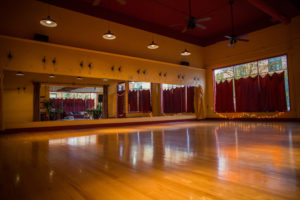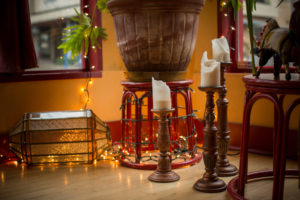 Photography courtesy of Ray Phung Photography. 
If you, or someone you know, might be interested in presenting, teaching, or playing in a stunning studio, close-in NE PDX, please email contact@SomaSpace.us or call 971.258.1885 to schedule a viewing.