CALENDAR
Alchemizing Divorce
March 30@10:30 am

-

6:30 pm

$211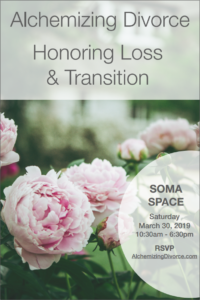 Honoring Loss and Transition
To alchemize is to transform the nature of something into a new form, seemingly through magic. The termination of a long-term, committed, monogamous relationship is a powerful process, one that is often private, and sometimes includes a sense of failure or shame. Grief and loss are significant companions, and so, too, are hope and courage. Divorce is a deeply private event, and isolating at times. Yet we believe that connection and ceremony are the magic we need to regenerate from this process into a new form.
This workshop welcomes all persons who are currently moving through the process of divorce, or did so in the past, and who are called to honor this transformation. We will gather and create a safe, interactive, heart and body centered space. We will explore stories that no longer serve us; stories we inherited from the larger culture, stories we tell ourselves, or even stories we imagine others tell about us. We will then transform these meanings and embody what we want our story to be today and tomorrow. The magic of storytelling, connection, movement and ceremony will all be present to support us into the becoming of our true selves.
We ask you, what did you give up or lose to move through this process? What does this transformation clear out and open up for you as you move into a new tomorrow?
Dates:
Saturday, March 30, 2019
Time:
10:30am – 6:30pm
Cost:
Early Bird price if paid by 2/28: $155
Regular price: $211
Registration: 
Pre-registration required
Register at www.alchemizingdivorce.com
For more information: alchemizingdivorce@gmail.com / www.alchemizingdivorce.com
Related Events