CALENDAR
Body Mythology
November 16@3:00 pm

-

6:00 pm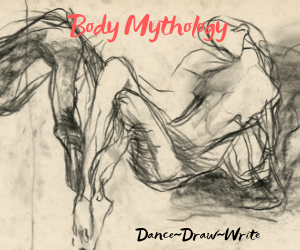 We will dance, draw, write, and witness.
This is a Tamalpa Life/Art class, an exploration of body part mythology and metaphor.
Our body is a community of different parts with stories that want to be told. Some parts are powerhouses, others are wounded, all with their own resources and challenges.
We will come together twice for 3 hr sessions using art as a way to renew, update, break through, witness and be witnessed.
We will make dances from body stories, and the creative process will guide us in changing our habitual stories and ways of being, making space to embody the postures and dances that want to emerge.
As always, when we work on our art we work on our lives.
For more information on the Tamalpa Life Art Process: tamalpa.org
No movement or drawing experience is needed. This work is for everyone.
Dates:
Saturday, October 19, 2019
Saturday, November 16, 2019
Time:
3:00pm – 6:00pm
Cost:
$50 for the two-part series
Registration:
Pre-registration required.
Email to register: wrenandersonlcsw@gmail.com
paypal.me/wrenanderson
Venmo: @wren-anderson-1
Cash App: $wrenchristine
For more information: wrenandersonlcsw@gmail.com
Related Events