CALENDAR
Burlesque Performance Series with Madam Steele
December 8@5:30 pm

-

7:00 pm

$350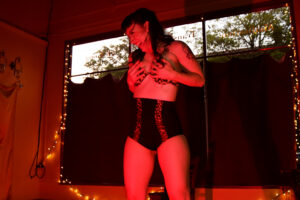 Madam Steele classes go way beyond a dance class where you shake what your mama gave you, although that is usually included! These thoughtfully crafted classes invite each woman to bring her most authentic, fierce and sensual nature to the dance floor. It is a chance to see and be seen in this place.
The Burlesque Performance Series is designed to help you move through your fear and resistance and is open to all abilities, body types and to all female identified people. Don't be shy! This is a SAFE space to play and grow along with others who are doing the same thing. We are all in this together!
In addition to many hours of instruction, you will receive…
~ Weekly emails that will inspire and educate you throughout the series
~ A 20 min support call with Madam Steele
~ Access to a private online community for you and your classmates
~ A discount on private rehearsal sessions to help you refine your act
~ A booklet with tons of supportive info
~ A video of your performance
~ An opportunity to perform for an audience who is primed and ready to show you unconditional love and support!
Join us for this unforgettable experience, you will not be disappointed!
Pre-registration required. Space is limited, register today to claim your spot!
Returning students: enjoy the early bird rate of any package through the end of registration! 
One income based spot available. First come, first serve. To be considered write to: madamsteeleburlesque@gmail.com
To register: www.audreysteele.com 
For more information, please contact Audrey: madamsteeleburlesque@gmail.com 
Related Events