CALENDAR
Burlesque with Madam Steele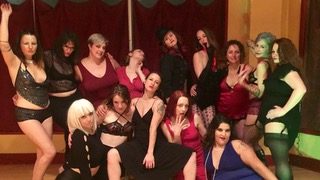 8-Week Spring Series
Join Madam Steele and a group of like-minded women for an immersive, unique, and transformative journey.  Over eight weeks you will explore improvised sensual movement, strip-tease, seduction, burlesque-inspired performance and have a blast doing it!
This class offers an opportunity to learn and to develop your own powerful and authentic, sensual, self- expression.
Over the course of the 8 weeks you will practice and learn:
~ The connection between movement and empowerment
~ How to command the attention of your audience
~ How to move seductively in a style that is all your own
~ How to tease effectively
~ How to improvise confidently
~ Tricks of burlesque style strip-tease and so, so much more
In addition to 14 hours of instruction, you will receive:
~ Weekly emails that will inspire and educate you throughout the series
~ Anytime access and support from Madam Steele via email throughout the full eight weeks of class
~ Two 30 min support calls with Madam Steele. The first, during the development and conception of your act and the second when you choose.
~ A discount on private sessions to help you refine your act
~ A professional photo of you, the group, and a video of the performance
~ An opportunity to perform for an audience who is primed and ready to show you unconditional love and support!
This class is designed to help you move through your fear and resistance, and will empower you to bravely explore and express your sensuality authentically.  You will experience a freedom you didn't know possible. The series concludes with an optional class show where you will get to shine like the bright star you are!
Open to all levels, body types and to all female-identified people.  Don't be shy! This is a SAFE space to play and grow along with other women who are doing the same thing.  We are all in this together.
What people are saying…
"I seriously cannot express enough gratitude for the time spent in your class. It was one of the most incredible transformational experiences I've ever had. It's given me so much more confidence in my ability to pursue music and perform again. I feel like it unlocked something inside of myself I had forgotten about. You have a true gift! Keep doing what you're doing! "
-Katie
"My heart is so filled up with love, I am truly grateful, I will cherish these memories forever!"
-Angela
"If you are a woman looking to feel empowered, confident, sexy, and honored for your unique style, then take a class with Madam Steele.  It was one of the most profound experiences of my life."
-Sharon
For more information or to register visit: www.audreysteele.com
Related Events