CALENDAR
Functional Strength and Movement
June 11@5:30 pm

-

6:30 pm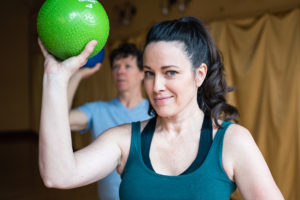 This is an hour of sensible, sustainable, invigorating movement.   The class includes mobility exercises, isometric exercises, medium impact hopping exercises for the bones, strength training, core exercises on the floor, and more.  Extreme forms of exercises might be popular these days, but in this class, Chris tries to create an experience that is safe and healthy.
Chris has selected exercises that are varied, novel, and interesting to your nervous system.  The variety of movements means that you won't feel like you are doing the same thing over and over.  Chris will guide you through the class with attention to detail and insightful feedback. He will help you figure out how to move better and become stronger in a healthy and fun way!
One signature of this class is the use of props.  Throughout class, you will use blocks, stools, floor mats, resistance bands, medicine balls, and impact mats.  Using props opens up new exercise possibilities and enhances awareness of your bodies' movement.  Props help make the class novel and engaging.  These props are provided for you.
Somatics have been described as "the body experienced from within".  In this class, Chris will help you bring awareness to your movements and the sensations of your moving body.  You will move slowly and carefully so that your nervous system can assimilate the experience.
If you want to start working out and gain strength, but aren't sure where to start, this class is for you! Athleticism is not a requirement for the class, but in order to participate you should be able to get up and down from the floor without difficulty.
For more information, please contact Chris: crpikeinportland@gmail.com/ 530.757.6656
Related Events