CALENDAR
GenderQueer & Gender Non-Conforming Clothing Swap
June 9, 2018@8:00 pm

-

9:30 pm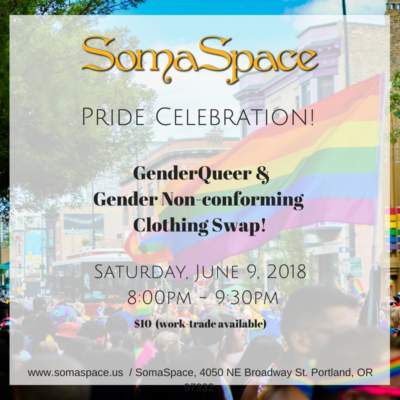 SomaSpace is delighted to host our first GenderQueer & Gender Non-Conforming Clothing Swap! This is a queer event to celebrate Pride month!!
Bring any clothes and costumes you aren't actually wearing and are ready to let go of. Then shop through what everyone else brings! You are welcome to take home as many items as you fall in love with. Spice up your wardrobe, and get ready for pride!!
Join us at SomaSpace for a super fun evening of playing dress ups and renewing your wardrobe! It feels fabulous to get rid of clothes you don't actually use and watch others enjoy them. Plus you get to replace your old stuff with new-to-you threads. So, get ready, go through your closet and collect a bag of clothes, costumes, and accessories that you're ready to retire and make room for your new-to-you wardrobe! Just in time for Pride 🙂
Please bring your own bags to carry your finds home in. All leftover clothes will be donated to the Transition Projects, an awesome non-profit that supports street people with a  variety of resources.
All of the queer community is welcome!!! All sizes, genders, styles, ages, and walks of life!
Date: Saturday, June 9, 2018
Time:
 Doors open at 7:45pm and the swapping begins at 8:00pm.
The event goes until 9:30pm.
Cost: $10, cash highly preferred