CALENDAR
Golden Summit
March 23, 2019@10:00 am

-

2:00 pm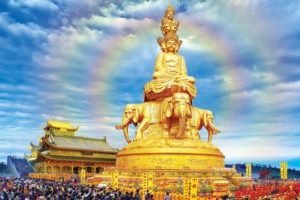 Stillness Movement Qigong (Jing Dong Gong)
Golden Summit Class presents a 4-hour monthly space to dive deep into the accumulated wisdom and longevity methods of the Jing Dong Gong Lineage.
Practices taught include and not limited to:
~ Gift of the Tao Qigong
~ Stillness Movement Sitting and Standing Meditation
~ Taoist Breathing methods
~ Tendon and Joint Stretches for Longevity
~ Qigong Energetic Shielding Methods
~ Spiral Rejuvenation Napping Qigong
~ Qigong Virtues for Longevity, Peace and Empowerment
All levels welcome from complete beginner to advanced.
Dress Code: Wear any clothing that is comfortable to move in without restriction.
Water and bathroom breaks will be provided as needed as well as a set time for lunch.
Meditation snacks will be provided of fresh fruit and nuts. Feel free to bring a light meal or snacks for yourself.
Please arrive on time and ready for instruction.
History of the Golden Summit:
The Golden Summit Monastery rests at the peak of Mt. Emei, the highest and holiest of Buddhist mountains in China. Almost a millennium ago, 3,600 schools of Taoist, Buddhist, Confucianism, and folk magic from across China were filtered by the monk Bai Yu in deep meditation. Only the high level teachings of each tradition were kept and the low level illusions were tossed away. The culmination of what remained birthed a Qigong lineage that was passed on secretly for almost 800 years.
In the 20th century, the abbot of the Golden Summit Yong Yan made a decision that would change history. He trained a layperson for the first time in the complete temple lineage with the intention of spreading Qigong publicly across China for the betterment of all of humanity.
That layperson was General Zhou Qian Chuan, the grand teacher of my master Michael Lomax, lineage holder of the Stillness Movement Jing Dong Gong system.
"Qigong is more than simply the study of energy. In addition to being the single most profound form of preventative and healing medicine, the practice of Qigong is a way of life, a way of attaining our highest spiritual goals, a way of attaining knowledge of who we really are and what we are supposed to be doing on this earth" – Master Michael Lomax
To register: eventbrite.com/o/ben-rosen-19699886622
For more information, please contact Ben: qiclinicpdx@gmail.com / www.qiclinicpdx.com