CALENDAR
Healing Chronic Pain
August 3@10:00 am

-

11:00 am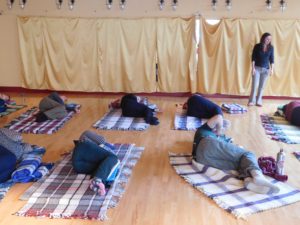 Gentle Movement & Awareness Exercises with the Feldenkrais Method
Chronic pain and injuries influence every aspect of life. Conscious and unconscious limits are placed on your ways of being in the world. Your dance is constrained. Your mind is busy protecting you, restricting your freedom of expression, closing in your world.
You may be acutely aware of the limitations or you may have adjusted to this restricted way of walking through life. Either way, come remember how you use to feel ~ strong, comfortable, flexible, loose, free, & effortless!
In this class, you will experience carefully crafted, gentle movement sequences that will relieve your pain and give you invaluable, surprising insights into your movement and thought patterns.
These exercises are designed to communicate directly with your Nervous System, making the changes you feel not just a temporary fix, but a fundamental improvement in your movement habits. These new movement patterns will be so delicious to your brain and Nervous System that you will find them immediately, subconsciously integrated into your daily life.
If you are ready to:
Eliminate aches and pains, and move more easily.
Improve your co-ordination, posture and flexibility.
Restore lost function.
Find relief from stress, and the tools for psychological growth.
Attain greater ease and pleasure in all your physical activities.
Improve the fitness and agility of your brain at any age.
Gain renewed physical vitality, health and emotional well-being.
Then, come learn how your Nervous System is your best ally in feeling better in an effective, quick, and lasting way! Gain the tools to be a powerful agent in your own healing and on-going comfort.
For more information, please contact Jacqueline: jacqueline@somaspace.us / 971.258.1885
For more info about this class offering: feldenkraisportland.com/healing-chronic-pain/
**2018 Summer Class Series**

Summer Class Series Dates:
June 29
July 6, 20, 27 (No class July 13)
August 3, 10, 24, 31 (No class August 17)
Time: Fridays, 10:00am – 11:00am
Cost: 
8-week Summer Class Series (in-person and recordings): $96
8-week Summer Class Pass On-line (recordings only): $58
Walk-in to any class: $15/drop-in
To Register for the Summer Class Series:
*Also, available for on-line subscription ~ you can take this class anywhere, at any time that works for you!
To Register for the Audio Recordings Only:
Related Events