CALENDAR
Heart Wisdom
March 10@3:00 pm

-

5:00 pm

$55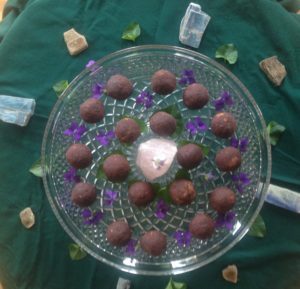 Cacao and Vibrational Medicine Ceremony
I'm thrilled to offer my first cacao ceremony since returning to Oregon this summer!! I began offering these in 2012 after receiving guidance to do so.
We'll be working with wild, ancient strains of cacao harvested and prepared in the traditional Mayan manner. This cacao contains significant levels of neuromodulators and neurotransmitters, like serotonin and is loaded with around 1200 constituents. I craft 'Bliss Balls' infused with my Spirit Remedies geared towards the intentions of our Circle and those participating.
After studying some foundational Taoist Stone Medicine from the Jade Purity Lineage while living in Appalachia, I now pair these ceremonies with on-the-body Stone Medicine Treatments and open channel my Spirit Language (or what others call 'Light Language' or 'Speaking in Tongues') for a powerful alchemy of transformation. Everything that exists has a specific frequency and these tools weave together in a dynamic manner! This is truly a multi-layered experience.
I'm calling this circle Heart Wisdom because even though there's still much grief and heartache to transcend, our hearts are wise guides and have their own Gnosis. For our stone medicine treatment, we'll be working with Lepidolite on a primary acupuncture heart point. Lepidolite is one of my heartthrob stones, and I'm excited to share its soothing and uplifting benefits with you.
I love creating a safe, beautiful and loving container for my ceremonies and SomaSpace is a perfect fit! This is going to be a VERY special evening and I'd LOVE for you to come join me!
I'm able to welcome 20 folks. Pre-Payment is necessary to hold your place.
** Essential Details ** 
** You'll need to Register to hold your place by February 3rd through my website – www.yourplacetoheal.com/cacao–stone-medicine.html (credit/debit and paypal are payment options on my website. I also welcome VenMo to @Lorin-Purifoy)
** Given the nature of this Ceremony, There are No Refunds.**
You're welcome to transfer your place to someone else provided you notify me in advance
OR
Hold this as a credit towards my next circle
** Please let me know asap if you have food sensitivities so I can determine if I need to make a special batch. **
** If you are on medications that are MAO inhibitors, this cacao + your meds DON'T MIX. **
** "Many antidepressants do NOT mix with the tryptophan and MAO (Monoamine Oxidase) Inhibitors in this cacao." Typically consuming a lower dosage will be fine (which is one reason I create Bliss Balls, so you can adjust your dosage, and I'm using the lower end of a moderate dosage.)
Please google your prescription.
"Heart conditions: cacao increases heart rate and is a vasodilator, opening blood vessels, increasing flow, and reducing blood pressure if it is high. Go easy at first with very low blood pressure – though it is rarely a problem (for most, cacao increases low blood pressure)."
Specific details will be emailed a few days prior to our ceremony.
Date:
Sunday, March 10
Time:
3:00pm – 5:00pm
Cost:
$55
Registration:
Pre-registration required
Register at www.yourplacetoheal.com/cacao–stone-medicine.html
For more information: aplacetoheal@gmail.com
Related Events