CALENDAR
Mindful Strength Training
November 20@6:00 pm

-

7:00 pm

|

Recurring Event

(See all)

Tuesdays, 6:00pm - 7:00pm and Wednesdays, 4:30pm-5:30pm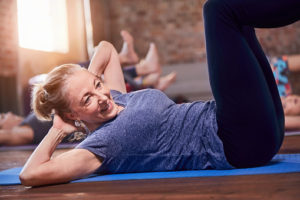 Come for a rendezvous with your rhomboids.  Connect with your quadratus laborum.  Tango with your transverse abdominis, and google your gluteus maximus.   
Mindful strength training is a class focused on making resistance training accessible to people who aren't comfortable in a gym environment. In this class, you will do a gentle mix of isometric exercises, mobility exercises, weight lifting, body weight exercises, and somatic movement.
If you want to work out and gain strength, but aren't sure where to start this class is for you! Chris will guide you through a series of exercises with attention to detail and insightful feedback. He will help you figure out how to strength train in a healthy and fun way!
He has selected movements that are interesting to your nervous system. These exercises incorporate rhythms, balance, circular movements, swinging movements, and more. You won't feel like you are doing the same thing over and over. Every exercise feels different and does something different for your body.
Somatics have been described as "the body experienced from within".  In this class, we bring awareness to the sensations coming from your muscles during each exercises.  When you move against a resistance, such as a weighted exercise ball or a resistance band, this actually enhances the internal experience of movement.  You will move slowly and carefully so that your nervous system can assimilate these sensations.
One signature of this class is the use of props.  Throughout class, you will use blocks, stools, extra thick and comfortable floor mats, resistance bands, medicine balls, and impact mats. These props are provided for you. These props open up new movement possibilities and help make the class novel and engaging.
Athleticism is not required for this class, but it is important that you can get up and down from the floor with ease.
This class is currently equipped for eleven participants, so come early to get a spot.
The instructor is available for questions and new student orientation ten minutes before class.
For more information, please contact Christopher: crpikeinportland@gmail.com/ 530.757.6656
Related Events