CALENDAR
Permission for Pleasure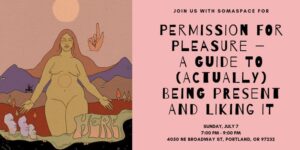 A Guide to (Actually) Being Present and Liking It
With so much pressure, commitments, social media, distractions and challenges in life, it is so easy to shut out, shut down, and be turned off to life. In this workshop, we create anchors to fully come back into our bodies, and actually open ourselves up to receiving pleasure in the simple joys of life. We will work with the senses to activate codes and open up to expansion of pleasure. Through meditations, movement, essential oils, breath, experiences, check-ins, and energetic healing work, we will say yes to coming back home to our bodies and yes to pleasure.
We are asking $15 dollar donation – but no one will be turned away due to lack of funds.
This is an all faith, all race, all gender, all body circle and ceremony. Everyone is welcome.
Date:
Sunday, July 7, 2019
Time:
7:00pm – 9:00pm
Cost:
$15 suggested and appreciated donation
No one turned away for lack of funds.
Registration: 
Drop-in okay, cash check, credit
Register at: eventbrite.com/e/permission-for-pleasure-a-guide-to-actually-being-present-and-liking-it-tickets-62263670314
For more information: ani@kozmicryder.com
Related Events