CALENDAR
Portland Reclaiming: Imbolc Ritual
January 28@5:30 pm

-

8:30 pm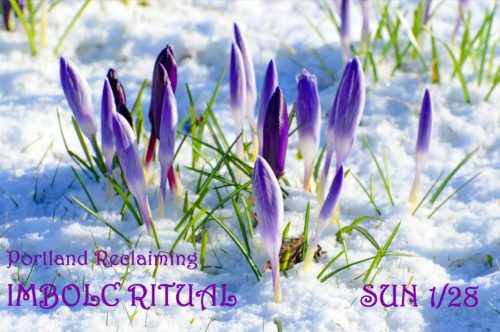 Colluding in the Darkness Against Empire,
We Promise Our Liberation Together And Ignite Our Solidarity
Our workings this evening will involve varying levels of emotions, some movement, and interpersonal engagement. Please be your own authority in providing self-care and attending to your needs. We strive to create a space that is safe enough for people to encounter and explore generative discomfort.
What to bring (optional):
— Your stone from this year's Samhain ritual (additional stones blessed in ritual are available for those who weren't at Samhain).
— A snack item to share post-ritual, with ingredients clearly labeled.
What not to bring:
— Please come to ritual scent-free. If you would like to learn more, read here:
http://www.anapsid.org/cnd/files/how2bscentfree.pdf
— Please do not bring pets or familiars.
— Please come to ritual free of intoxicants or chemically induced altered states. In the Reclaiming Tradition, magic is essentially and inherently consciousness altering.
We strive to make our events as accessible as possible. If you need or want a chair to be comfortable in ritual,there are chairs provided, and know that you will be included. Soma Space is a shoes-off environment but there will be shoe covering "booties" provided if there is a medical need to wear shoes in the ritual space; if so, please reach out to Traci Emerson (contact info below). There are two bathrooms available for use before, during, and after ritual.
Children are welcome to attend, but this ritual is planned for the cognition, attention space, and distress tolerance of adults; they may find it confusing and/or challenging. Child care is not provided.
Date: Sunday, January 28th, 2018
Time:  5:30pm-8:30pm
Doors open at 5:30pm, ritual begins promptly at 6:00pm.
Doors will be locked at 6:00pm to help maintain the strength of our container.
Cost: Five volunteers have spent around six hours a piece (so far) helping craft this ritual. We are asking folks to make a sliding-scale donation of $10-$20 to cover the costs of renting the space–all organizers donate their time. Please pay what you are able to help support community rituals in our area.
No one will be turned away for lack of funds.
For more information contact Traci: traci.emerson@gmail.com
Event Page: https://www.facebook.com/events/116413239147720/
Related Events