CALENDAR
Qigong: Generating an Energy Flow
August 14@5:45 pm

-

6:45 pm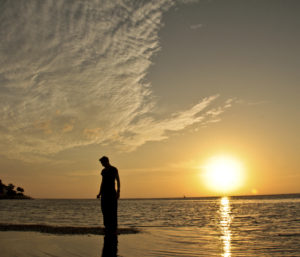 In this class, the fundamental skills of a Qigong energetic practice are transmitted. The objective is not to anchor you to the class itself, but rather to empower each student with all the skills, tools, and confidence they need to cultivate a powerful personal practice for themselves.
Students will be lead into a meditative/"Qigong" state of mind, then taught a variety of simple physical movements that, when done in a state of relaxed awareness, facilitate a gentle internal flow of intrinsic energy. No athleticism is required. Once we've tapped into this energy, we learn to relax the mind, step aside, and let that energy flow naturally and unfettered throughout the body; nourishing, increasing vitality, clearing out stuck energy and stagnation, and facilitating healing on whatever level the student most needs and is open to.
The practice itself is profoundly simple in action, as is typical of Zen traditions such as this one. There is great power in that simplicity. Some minor benefits beginners can expect from this Qigong practice are:
~Feeling bright, calm, and refreshed
~Feeling remarkably energized, yet relaxed
~Increased physical and emotional groundedness
~Increased mental freshness and clarity of mind
~A gradual release of systemic tension and stress
~Increased physical vitality
~A greater capacity for compassion and forgiveness
~The ability to smile from the heart
~Feelings of joy and bliss at being alive in your own body
Some of these benefits may sound remarkable, but that is only because of our perspective. The Qigong perspective is that these benefits are just a return to the natural state of being alive. Being healthy and happy is our natural state! We simply need to remove the impediments to health and vitality that have developed throughout our lives. We use the flow of intrinsic energy to accomplish this.
As students progress and deepen their level of practice, even greater benefits open to them. This class will equip you with all the fundamental skills and knowledge needed to begin and sustain your own personal journey with Qigong.
*Course Details*
Any level student is welcome to drop in on any class. However, the introductory course will be on a 6-week cycle, and when possible it is recommended to complete the 6-week cycle from start to finish, as each class will build upon the previous classes.
On August 7th, we will have a free class for anyone that is curious to experience a little taste of what this Qigong has to offer. There will be some discussion on what Qigong is, how it works, what is required to practice it, and what benefits students can expect from their practice. If you or anyone you know is curious, please come by! You won't be disappointed.
The next 6 week cycle will begin on June 26th and conclude on July 31st.
The following 6 week cycle will begin on August 28th and conclude on October 2nd.
Related Events