CALENDAR
Restorative Yoga & Sound Healing
August 19, 2018@10:00 am

-

11:00 am

$25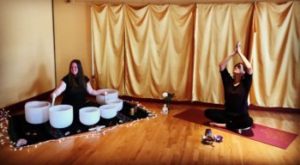 Join sisters Jessie and Marissa for a nurturing Sunday morning practice of heart-centered movement and high vibrational sound healing!
Jessie will intuitively guide you through a gentle, restorative yoga practice that will focus on self-care and compassionately connecting with your body while Marissa takes you on an energetic journey using eight crystal singing bowls to support you in grounding and clearing as you move.
We will take time to rest in different poses, allowing the healing vibrations of the crystal singing bowls to wash over you and support you as you tune deeply into your body as you move. The sounds of the crystal bowls help to calm the mind and bring us more fully into our bodies. This creates space for our body, mind and heart to return to harmony.
We will finish with a lengthy savasana-sound bath to allow you to experience these healing sounds while receiving in stillness.
We would love to have you join us for this nourishing and rejuvenating class! Beginners welcome!
Date:
Sunday, August 19
Time:
10:00am – 11:00am
Cost: $25 in advance, $30 drop-in
Related Events