CALENDAR
Saying Yes!
October 23@7:30 pm

-

9:30 pm

$10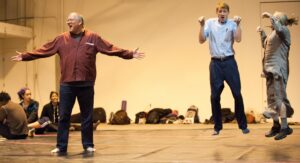 Playful improvisational theater class to inspire spontaneity & creativity
This is not traditional theater improvisation. Participants have no responsibility to be creative, interesting, funny, or 'talented.' The goal is, first and foremost, to be present, and second to make and act on creative discoveries and the discoveries and presence of others.
What this experience can do for you:
~ Build your presence – own a room, a moment, an audience, the attention of a passerby.
~ Increase your confidence – know you can rise to any public occasion and any moment.
~ Strengthen and become more aware of your creative impulses, and escape your clichés.
~ Open doors to more creative discoveries.
~ Improve and extend your voice.
~ Learn to sing with singers, move with movers, and keep up with quick and agile speakers.
~ Discover more beauty in more moments, and have a richer sensory experience in your everyday life.
~ Explore more kinds of movement, sound, and speech.
~ Increase mindfulness and precision in your movement.
~ Turn your waiting time in lines, stalled traffic, etc. into a rich and creative experience.
~ Become more comfortable and present as a performer, and acquire tools to develop scripted pieces and more through improvisation.
Whether you are a daydreamer, writer, singer, dancer, or simply a curious person seeking to live more fully, Kelman's work will enhance your creativity and add another level to your experience of your art and your daily life.
For more information, please contact Carlton: riffline@yahoo.com
Related Events