CALENDAR
Sitting and Standing with Comfort
March 11@6:00 pm

-

7:15 pm

**SOLD OUT **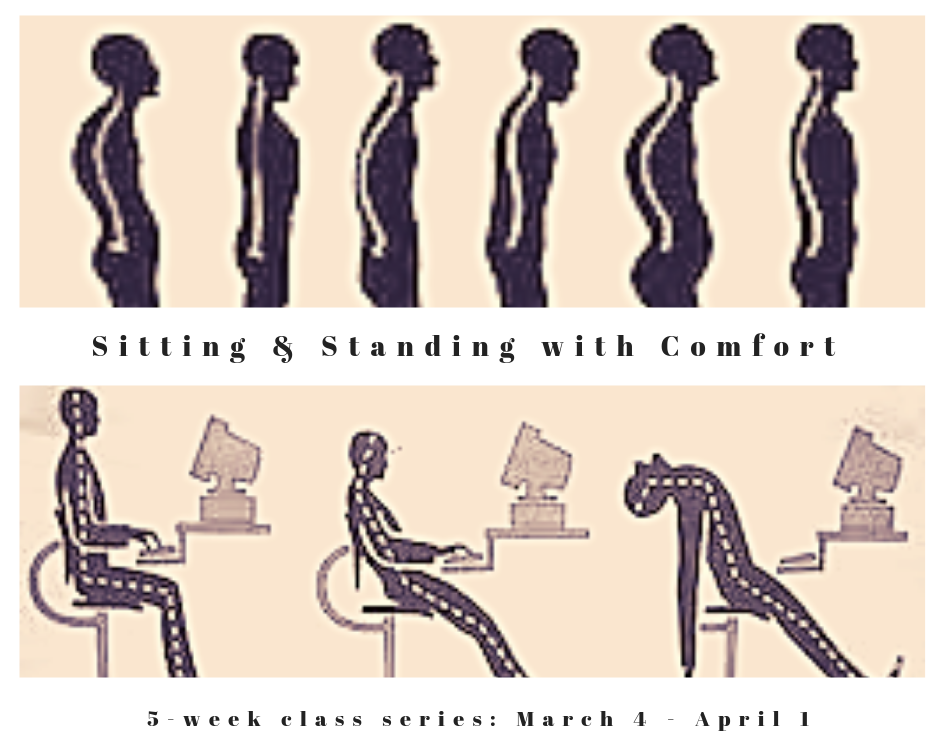 A Feldenkrais Method class series
Are you in pain or fatigued after sitting or standing? For some people, it takes a few hours and for others only a few minutes before the tension sets in. Whether you feel the pain or weakness in your back, shoulders, neck or buttocks, it is frustrating to be in pain when it feels like you aren't doing anything of out of the ordinary!
How can you avoid sitting and standing though? It's not realistic that you can just not sit or stand. Life requires it. So what can be done?
Turns out it is simple to find comfort while sitting and standing if you use gentle, slow movements that are designed to remind your nervous system of your skeletal support and naturally effortless postures. I have designed a series of exercises that will illuminate the habits that aren't serving you and will give you new options for effortless sitting and standing.
In this class series, you will learn a series of exercises that can be repeated throughout your day for ongoing relief. After a period of practice, you will find you spontaneously sit and stand differently and these new patterns are full of ease and comfort.
That's because these exercises aren't about stretching your muscles or finding some perfect static posture. Instead, they are designed to change the neural networks in your brain around sitting and standing! That means this class won't just teach you the tools, but will make a fundamental shift in how you sit and stand that will last. You will learn tricks for healthy, dynamic sitting and standing, as well as change on a deeper level so you can access these new options readily and without even thinking about it.
Your nervous system is always looking for ways to reduce pain and conserve energy. In this class, you will learn how to send clear messages through your nervous system to your brain and the effect is profound. You will find that your body changes in a quick and powerful way. And that those changes can be integrated into your daily life.
In this class series, you will learn new ways of sitting and standing that utilize the power of your bones to hold you up and allow your muscles to relax. By using your skeletal support and the particular muscle groups designed for endurance, you will find ease and comfort while sitting and standing, even for long periods of time.
If you don't want to be in pain or to keep trying to avoid sitting and standing, let's make it easy for you! Get the tools you need to feel better and to create powerful, new patterns with sitting and standing in this class series.
Sign up now to reserve your spot and start your journey towards greater health and rejuvenated living.
For more information, please contact Jacqueline:
jacqueline@somaspace.us / 971.258.1885
March 4 – April 1 (5-week class series)
$108 regular tuition
** SOLD OUT **
Related Events