CALENDAR
Sitting With Comfort
March 13@6:00 pm

-

6:50 pm
Event Navigation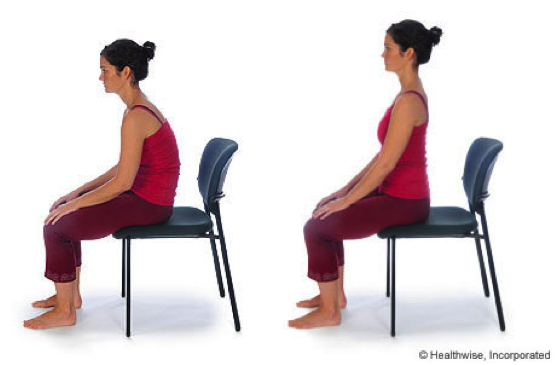 The Fundamentals of Healthy Sitting
Are you tired of slouching, yet find it strenuous and maybe even painful to sit upright?
Are you stiff and sore during or after sitting?
Would you enjoy sitting upright with less effort and a clear sense of what a healthy sitting posture feels like?
Would you like to learn how to set up a supportive environment?
Sitting is one of the basic functions that people do countless times and for a large portion of each day. Yet, with unsupportive chairs and increasingly more time looking at screens, it has gotten harder to sit comfortably. It is unclear what healthy sitting posture feels like and really confusing how to achieve it.
What is healthy sitting?
How do you sustain sitting upright?
What does "upright" actually mean or feel like?
How do you achieve healthy, comfortable sitting in a lasting, effective way?
In this class series, you will experience deep relief, relaxation, and learn an effective, systematic approach to getting out of chronic pain and improving your sitting habits.
You will feel increased comfort immediately and the improvement that will last longer and longer after each subsequent class.
If you are longing to:
Eliminate aches and pains, and sit more easily.
Improve your co-ordination, posture and flexibility.
Restore lost function.
Improve the fitness and agility of your brain at any age.
Gain renewed physical vitality, health and emotional well-being.
Then through this class series you will learn Tools for Successful, Healthy Sitting:
Reducing Chronic Tension: I will lead you through gentle, easy movement exercises that will release the chronic tension that you hold in your body while sitting. Not only will this be relaxing and ease your discomfort, it will give you the physical availability to sit in healthy ways. Instead of fighting to sit upright, you will naturally sit in a new, healthy posture.
Using Your Skeletal Support: In this class, you will learn what it feels like to really use your skeletal support in sitting. This is an opportunity to learn your anatomy from a place of embodiment—that is from feeling yourself. Once you know how to support yourself successfully and your brain gets a taste of the energy conserved by structurally supported sitting you will spontaneously find yourself sitting differently.
Dynamic Sitting: An emphasis of this class is that sitting is meant to be a dynamic activity. There is not one perfect sitting posture, but rather many sitting postures that will support you well in different activities. Through a wide variety of movement exercises, you will explore a range of healthy sitting postures, perfect for all the things you do while sitting.
Supportive Environment: I will share essential information on how to set-up your physical environment to support you in healthy sitting. These discussions will include information on chairs, work-station set-ups, and computers. 
What you learn in this class will stick in powerful way because we utilize the innate intelligence of your nervous system and brain! 
Dates:
Tuesday evenings beginning February 27, 2018 – March 20, 2018
Time:
6:00pm – 6:50pm
Cost: $60 for all 4-Weeks
(No drop-ins for this series)
Register through Paypal!
Related Events