CALENDAR
Soma Yoga: Nectar of Rejuvenation
June 10, 2018@9:30 am

-

5:30 pm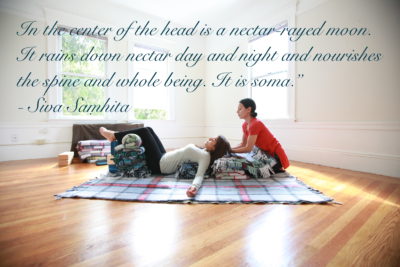 From Depletion and Isolation,
to Rejuvenation and Connection
Soma is the power of rejuvenation, embedded within your sacred anatomy. Described in the yoga tradition as a "moon that rains down nectar", soma is the cool inner milk, a fountain of youth that sustains, calms, supports, and nourishes us like a divine mother.
Join Kaya for a Full Day of
~Yoga Nidra to stimulate the flow of soma's power of connection.
~Soma Release Yoga techniques that are relaxing, rejuvenating and inspiring.
~Sacred anatomy teachings
~Teachings on Soma's divine power of connectivity and love Lessons to take the practices home with you!
We won't work "hard" or "easy", we will work deep! This immersion emphasizes the deepest, most directly healing, yet most accessible practices.  You'll leave harmonious, supple, and rejuvenated with take-home tools to softly expand into your life and relationships in a way that deeply nourishes and rejuvenates.
Date: Sunday, June 10, 2018
Time: 9:30am – 5:30pm
Cost: $150
Returning participants from the March Retreat pay $135!
(Accepted payments: Check, Cash, Paypal)
Registration: Required, register at YogaWithKayaResources.com
Related Events