CALENDAR
Sound Bath
July 21@4:00 pm

-

6:00 pm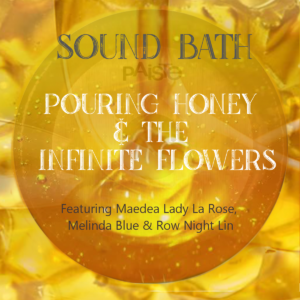 Pouring Honey & The Infinite Flowers
Join us as we slow down into gentleness with gongs, bowls, voice, guitar and drums for a sound bath and clearing, as we move into the deeper sweetness of summer. Please bring a yoga mat, two blankets, pillow, bolster, eye pillow, whatever you need to make you feel comfortable while laying down. Also bring water, and a snack to share if you feel inclined.
Doors open at 4:00pm, we will start at 4:30pm.
Please give 48 notice to cancel, no refunds for no shows.
We have a few scholarships available, to apply or if you have questions text 503-927-4326.
IMPORTANT: Gong bathing is not advised for those who are pregnant, or who suffer from inner ear issues – vertigo, who experience epileptic seizures in the state between sleeping and waking or those experiencing severe mental health concerns. This is because the effect of the sound vibrations can act as a trigger
Date:
Sunday, July 21, 2019
Time:
4:00pm – 6:00pm
Cost:
$15 – $25, sliding scale
Paypal, Venmo, or cash at the door.
Registration: 
Pre-registration required.
To register: email melindakowalska@gmail.com or text 503-927-4326
For more information: melindakowalska@gmail.com / text: 503-927-4326
Related Events