CALENDAR
The ART of Being Human
September 29@10:00 am

-

September 30@8:00 pm

$295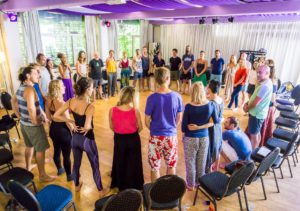 Level 1
Imagine getting to know yourself in profoundly new ways through the eyes of others.
Imagine being yourself and speaking your truth at any moment in your life.
Imagine being an agent for more meaningful and conscious relationships.
Imagine being comfortable and having grace under fire in times of discomfort, conflict, or stress.
Imagine having the power to lead any relationship towards a greater understanding of one another, deeper connection and more intimacy.
Imagine creating relationships that are resilient and designed to last.
WELCOME TO THE MOST CUTTING-EDGE RELATIONAL TRAINING IN THE WORLD: ART International's Authentic Relating Weekend Course – The ART of Being Human: Level 1
* * *
The unique transformational power of this course lies within the activation and deepening of your relational capacities. We've designed this course to give you the experience of profound connection, intimacy, trust, and aliveness with anyone you want, anytime, anywhere – all within just two days.
We put strong emphasis on practical and embodied learning and experience so that you can apply these new skills and ways of relating to others straight away with immediate results.
Our expert facilitators are highly qualified in this art and bring years of experience teaching authentic relating. Our curriculum designers have found and created the most innovative and effective relational practices available to deliver a life-changing experience that deepens with practice.
Our vision is to co-create a more enlivened, awakened, and authentic world through connection. We believe that we all have the capacity to be bridges for these connections; bridges between parts of ourselves, ourselves with others, and between different communities around the world.
The course's mission is to build bridges globally, and use these bridges to illuminate the unknown, to reveal the hidden, to heal, to connect, and to build a more authentic world in which we are all welcome and celebrated for exactly who we are.
* * *
During this course we teach you and have you practice authentic relating skills that work, and work every time, with everyone, everywhere. All you need to do after this course is practice the tools we give you and, in time, you will become an authentic relating master. We believe this with all our hearts, and have seen it proven again and again.
* * *
As ART Level 1 graduate, you will leave the training with:
– The ability to engage in deep, soulful conversations with anyone, anytime, anywhere
– A powerful skill-set to reveal your authentic experience in real time
– A complete set of tools to de-escalate conflict and to use conflict as a vehicle leading to deeper connection, understanding, and empathy
– The ability to set powerful context personally and collectively, and a clear understanding of how influential context is in shaping our relationships and connections
– The ability to identify and communicate your true, core desires
– The dignity of finding your voice and speaking your truth into the listening of others
– The humility of listening beyond the words and being fully present to the experience of others
– The ability to see and reflect others in their essence
– The ability to create a space where others can be fully and completely themselves – one of the greatest gifts we can offer each other
– A restored connection to childlike curiosity, discovering the world with awe and wonder
– An experience of profoundly vulnerable, intimate connections out of which possible new friendships emerge
Dates:
Saturday and Sunday, September 29 – 30
Times:
10:00am – 8:00pm, both days
Cost:
$295 (online registration only)
To Register: https://www.authenticrelatingtraining.com/level-1/
*Must register in advance (no walk-ins)
About ART International
We are united in our commitment to leveraging all of our respective skills, passions, and purpose to bring about a more awakened, enlivened, conscious world. Our facilitators have spent many years accumulating a wealth and depth of experience to produce some of the most powerful and effective authentic relating trainings in the world.
For more info: https://www.authenticrelatingtraining.com/
Related Events