CALENDAR
Touch of Sound
September 7@7:00 pm

-

9:00 pm

$20 – $40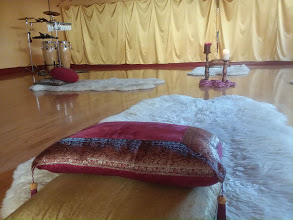 Group Acupuncture and Percussive Journey
Join Ryan McLaughlin, L.Ac. and Benjammin Lee on the first Friday of each month reclaiming the relationship with your body while harmonizing with the season in a group healing circle.
Following the art and wisdom of Chinese Cosmology, we invite you to join us for an embodied exploration of individual organ networks from a Chinese Medicine perspective.  Receiving the information through acupuncture and percussive sound, each participant will have the opportunity to deepen their relationship with themselves- one organ at a time. There are 12 organ networks, which correlate with the 12 main acupuncture meridians that flow through each one of us. Each month a different organ will be featured, felt, and loved.
This installation of the Touch of Sound series on Friday September 7th  from 7-9pm occurs during the time governed by the Bladder, which is associated with the elements of both Metal and Water from Chinese cosmological and 5-element perspectives. The Bladder channel is our longest acupuncture channel- from the medial corners of the eyes, up over our heads, down our backs, straight on down to our sweet little toes! We often look to the Bladder channel when treating neck and back pain, but it holds the potential for addressing much more of our being. The Bladder channel outlines our external boundary of self- and holds deep wisdom of upholding boundary, and the ability to say no.
Are you finding the need to set clear boundaries in your life?
Perhaps your boundaries are already strong and softening them could be good medicine?
Have your boundaries been violated and you want to diffuse energy of a past trauma?
Tuning into Bladder meridian energy can help us make those shifts and adaptations in our life.
Acupuncture in this healing circle will provide opportunity to be present with the here and now through using the wisdom held within the acupuncture meridians, while also providing support to each individual's constitution as determined through pulse diagnosis by Ryan McLaughlin, L.Ac.
The room will be filled with the percussive sounds of Benjammin Lee, as he takes us on a journey with vibrations and rhythms aligning with our Heart Fire and the Heartbeat of the Earth.
Upcoming Dates:
September 7, 2018
Time:
7:00-9:00 pm
Doors open at 7:00 pm, and will be locked at 7:30pm
[or earlier as we reach 12 participants]
Cost: 
Sliding scale $20-40, cash/check/Venmo
Please offer what you are able
Sheepskins, blankets, and pillows provided
To Register:
E-mail ryan@flourishoflifemedicine.com to reserve your space
For questions and more information:
ryan@flourishoflifemedicine.com
Related Events