CALENDAR
Touch of Sound
March 1@7:00 pm

-

9:00 pm

$33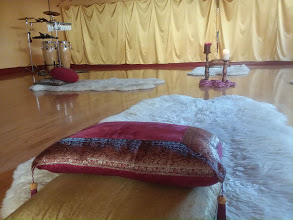 Group Acupuncture and Percussive Journey
Join Ryan McLaughlin, L.Ac. and Benjammin Lee on the first Friday of each month reclaiming the relationship with your body while harmonizing with the season in a group healing circle.
Following the art and wisdom of Chinese Cosmology, we invite you to join us for an embodied exploration of the Chinese Medicine organ networks- through acupuncture, percussive sound journey, meditation, song, and movement. You will have the opportunity to deepen your relationship with yourself- one organ at a time. Each month a different organ and acupuncture channel will be featured, felt, and loved.
February: LIVER
Friday, February 1 continues the Touch of Sound Journey 2019. We will focus on the Liver Meridian- teaching us how to persevere through any obstacles in our path, including our own mental game, and continue moving forward toward our goals. But not just any goal! The Liver Meridian specifically teaches us to use in-sight and inner vision to carry out our Heart's purpose. Begin from within! If you are wanting to connect more deeply with the ability to think strategically, maintain a plan, and take control of your forward trajectory- please, come join us for Touch of Sound!
Let's strengthen our ability to stay strongin the face of diversity, and rise up together!
Acupuncture in this healing circle will provide opportunity to attune to the present moment through harnessing the stories and wisdom held within the acupuncture channels.  Ryan McLaughlin, L.Ac.will craft a unique treatment for you using pulse diagnosis to open the doorway into supporting your unique constitution.
The room will be filled with the sweet vibrations of Benjammin Lee– an active percussionist in the Portland music scene- as we journey into the exploration within.
Please arrive between 7-7:15pm (*doors will be locked at 7:15pm*) in comfortable loose-fitting clothing.  Upon arrival, there will be a brief intake form and waivers to complete. Sheepskins, blankets, yoga mats, and pillows are provided for you to create your nest of comfort- but you are welcome to bring any items to maximize your comfort!
7:00-7:15 Arrival, Intake forms completed, Create your nest & settling in.
7:15-7:30 Opening of Healing Circle: movement, meditation, and teachings.
7:30-8:30 Percussive Journey & Group Acupuncture Treatment with sprinkles of song and teachings
8:30-8:45 Closing of Healing Circle: space for brief journaling and sharing of observations or questions
8:45-9:00 Tea Time and Community
Upcoming Dates:
2019
January 4: Gallbladder
February 1: Liver
March 1: Lung
April 5: Large Intestine
April 26: Stomach
June 7: Spleen
July 5: Heart
August 2: Small Intestine
September 6: Bladder
September 27: Kidney
November 1: Pericardium
December 6: Triple Warmer
Time:
7:00-9:00 pm
Doors open at 7:00 pm, and will be locked at 7:15pm
[or earlier as we reach 12 participants]
Cost: 
$33, cash/check/Venmo
Discounted packages are available for those who wish to pre-register for multiple sessions
To Register: https://www.flourishoflifemedicine.com/touch-of-sound to reserve your space
For questions and more information:
ryan@flourishoflifemedicine.com
www.flourishoflifemedicine.com
Please join our social media community for further details about each month's teaching, offerings, and health inspired ponderings! @flourishoflifemedicine
Related Events