CALENDAR
Veterans Yoga and Meditation
July 17@10:30 am

-

11:45 am

Free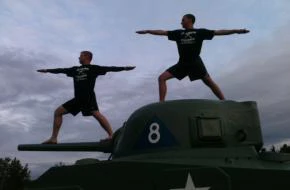 This class is an all levels, trauma-informed, and evidence based class for veterans and their partners.
Strive towards the following goals through regular participation in this Yoga Warriors class:
~ Develop proactive traumatic stress management skills so symptoms do not progress into full post-traumatic stress disorder decompensation.
~ Develop the capacity to maintain a flexible mind-set, one that is both "battle-ready" in response to threat as well as able to return to a normal state of arousal once the threat has passed.
~ Manage stress in day-to-day life before it leads to emotional dysregulation (e.g. anger, anxiety, irritability) and/or inappropriate behavioral responses (e.g. substance abuse, impaired interpersonal interactions, unhealthy lifestyles).
~ Decrease hypervigilance and better modulate reactions to sensory input, such as noise, crowds, movement, unexpected touch, and visually stimulating environments.
~ Improve quality of sleep, as well as attentiveness to self care needs such as nutrition, rest, leisure, and achieving a balance in daily life activities.
~ Reduce intrusive thoughts by drawing the mind back to the present moment through awareness of breath and bodily sensation.
~ Improve energy level to support meeting ones daily needs and goals.
~ Improve self-acceptance and self-esteem through the use of affirmations designed to reverse the spiral of negative thinking patterns.
For more information, please contact Troy: tmitchell@dogoodmultnomah.org / facebook.com/Meltingheartyoga-652233128158935/
Related Events