CALENDAR
Women's Circle
December 29@3:00 pm

-

5:00 pm

|

Recurring Event

(See all)

Sunday, December 29, 2019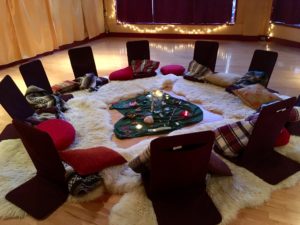 Come However You Are
The SomaSpace Women's Circle is guided by the belief that gathering together with other heart-centered women is essential to your health, growth, and empowerment in these times when women must step up, be loud, and help guide the world back into harmony. The circle holds the value that all people are wisdom-keepers with unique talents, perspectives, and richness to share. When you take the time to sit in circle with other women, sharing from your heart, getting real and raw, renewing your strength and power, and exploring new realms of thinking and being, it is a gift to the healing Earth, as well as to yourself and the community.
The flow of new women and regulars at this circle creates a unique blend of new energy and grounded, deepening experiences together. Each week, the unique group that has gathered opens their hearts to share the vulnerable truth of being alive in this moment and strengthen our capacity to be present and hold wide open, non-judgmental, loving space for others. Facilitation will be grounded, encouraging you to be present in your body and your inner light.
You are welcome to join the circle however you find yourself on Sunday evening; whether you are bursting with joy, grieving, feeling bleh, or any other number of things – You. Are. Welcome. Here!
Come experience the power of women coming together, being real, diving deep, and uncovering the truth of your heart and intuition.
Women across the vast gender spectrum welcome, including trans-women. Queer friendly space. Women of all ages welcome. Women across the vast race/ethnicity spectrum welcome. People of Color, refugees, and immigrants welcome.
Work-trade available.
For more information, please contact Jennifer: bishjenn@gmail.com
Check out this blog post from Jacqueline about her intention for Women's Circle!
Related Events