CALENDAR
Women's Clothing Swap
November 2@7:30 pm

-

9:00 pm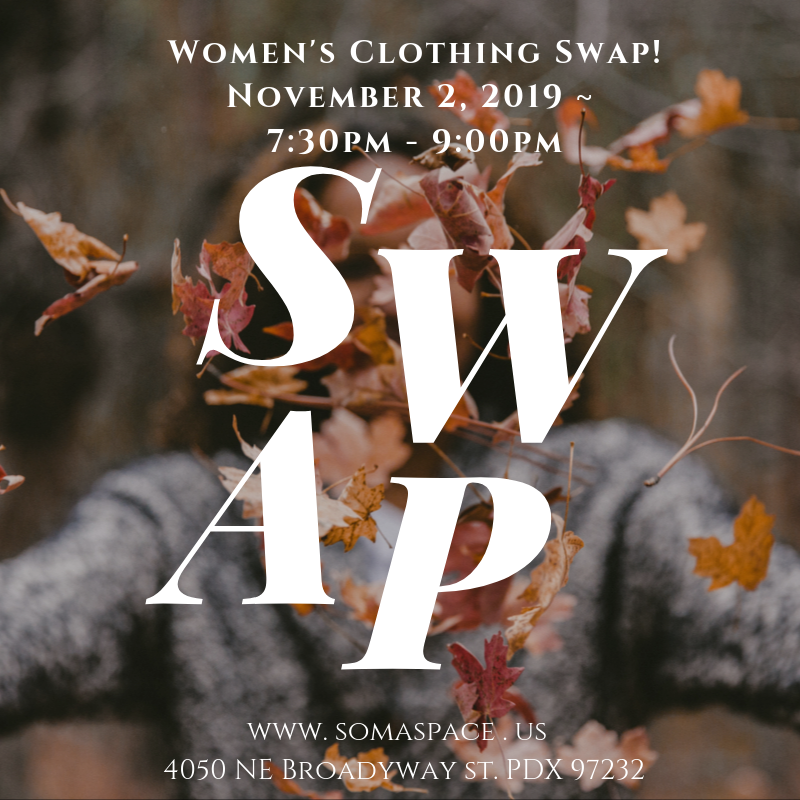 Join us at SomaSpace for an evening of fun at our women's clothing swap! Release what is not serving you anymore and bring in new energy with the upcoming season and with a renewed wardrobe! Bring a bag of clothes that you're ready to retire for someone to reuse with new life and find a new wardrobe in return!
Doors will open at 7:15pm, and there will be an opening circle at 7:30pm. Ground rules will be shared and intentions will be set.
Swapping will begin after the opening circle. If you arrive after 7:30pm, you will be held in the front entranceway for a second circle where ground rules will be shared, and then you will be able to enter the swap. And so on until everyone knows the new expectations around not hoarding and jumping on top of every single thing around you.
Open our hearts and share in the fun! We gather in the spirit of generosity and abundance. To this end, here are our house rules for the swap:
1. Once you have picked up a dozen things at most, try them on and put back what you don't want.
2. Do not hoard clothes. Be selective and take only what you truly want.
3. Pass along things that you think will fit better on other women.
4. Interact with the other swappers. Be mindful that your comments are not derogatory, dismissive, or put-downs in any way or could be misconstrued as hurtful or harmful in any way.
5. Relax, take a deep breath, and have fun!
This event is So. Much. Goodness! We will be trading clothes, accessories, shoes and jewelry, hanging out, and building community around grown-up dress-up time!
Women of all sizes, all ages, all backgrounds welcome. Trans-women welcome. Maternity, kids, and baby clothes welcome.
Please bring your own bags to carry your new threads home in.
All leftover clothes will be donated to Dress for Success Oregon, an awesome non-profit that offers professional attire and coaching for job interviews for women. They use non-dressy clothes for a tag sale fundraiser, too!
Date:
Saturday, November 2, 2019
Time:
7:30pm – 9:00pm
Doors open at 7:15pm
Opening Circle at 7:30pm
Cost:
$10 at the door
(Cash highly preferred. Work trade available – please inquire at jacqueline@somaspace.us)
Kids welcome, ages 12 & under are free.
For more information: jacqueline@somaspace.us
Related Events