CALENDAR
Zumba
September 9@6:00 pm

-

7:00 pm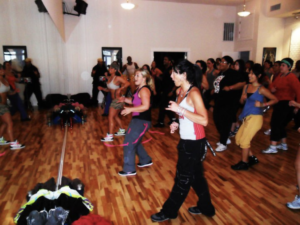 An easy to follow dance party that gets you moving and smiling to uplifting beats. This class will get moving while having a great time – it's a win, win!
Ever dance in front of the mirror in your pajamas after a long day just for some light hearted fun!? This class is just like an in home dance party with bumping music and all good vibes. Get sexy, feel the music and practice empowering easy to follow dance moves! 
We sweat, laugh and don't judge ourselves at all! No experience necessary just come to class ready to work hard and have fun. 
Zumba is a Latin inspired dance party that includes moves from hip-hop, salsa, reggaeton, and anything/everything Beyoncé. The moves repeat to the same part of the song so you can know what to expect and start really getting into your workout. 
If you're trying to get to the gym but feel stressed or unmotivated and are needing a healthy community – this is your class! 
Come try Zumba and shake, shake, shake it!
For more information, please contact Brittany: brittanyw8833@yahoo.com
Related Events