CALENDAR
Durga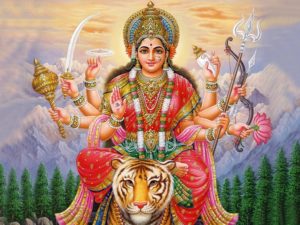 An initiation into outrageous authenticity & love
with Chameli Ardagh, founder of Awakening Women
You may roar from the mountain tops,
you may whisper into your cat's ear.
You may express it through the swagger in your hips,
through a hearty pumpkin soup
for one of those rainy days
or in a gentle touch on a tired neck.
You may sing it, teach it, paint it, dance it, write it.
No matter if you yearn for it or resist it.
Fall in love with it, ignore it, go for it or doubt it,
Durga ~ The Goddess who is married to Truth,
demands that the vibration of you,
your gift, your voice, your truth,
is fully given.
Your truth AND the trust and strength to live it, is not found in the cunning navigation through 
the all too familiar playing fields of the power games (higher/lower, win/loose, superior/unworthy, perpetrator/victim). Nor is it found in the never ending dance of self improvement, pumped-up empowerment or building your self esteem.
Your truth is not something you need to reach, find or create. 
It is already vibrating fiercely in the depths of that which truly matters to your soul.
In practicing with this fierce aspect of the divine feminine, the Goddess Durga, you will tap into and cultivate your magnificent feminine power, a source of knowing within you – one that is always accessible to you.  This power is nothing like the power games we all know too well. It is an expression of a fiercely compassionate alignment with your deepest truth.
Date: November 4-6, 2016
Time:  Friday 6:00 –  8:30 pm | Saturday 9:30 am – 6:00 pm | Sunday 9:30 am – 4:00 pm
Cost: Regular price $397
*If you need to cancel for any reason, we retain $75 as an administrative fee. No refunds 21 days before the workshop
*Price does not include food or lodging.
To Register: Click here or contact Janis Fish at janis@jayayoga.net
For more information, please contact Janis Fish: janis@jayayoga.net