CALENDAR
Spiral Rejuvenation Qigong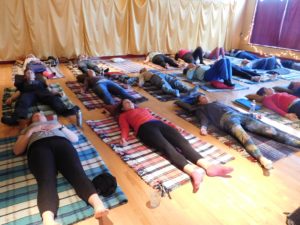 Spiral Rejuvenation Qigong is a powerful lying down napping meditation method. This method is a Qigong energy power nap from the Stillness Movement Lineage. Done correctly, this 45-minute practice is equivalent to 4 hours of rest. During regular dreamtime while we sleep, all of ones energy centers of the body naturally balance and achieve rejuvenation over the course of 6-8 hour rest. Here in this 45-minute practice we will gently activate the energy body in the same manner as it occurs in dreamtime and manually achieve complete rejuvenation physical/mental/energetic.
This method is a real lifesaver in our current time of too much work and not enough rest. This practice is also very valid for anyone who experiences insomnia or other sleep dysfunctions not allowing them to achieve enough rest for their body. Spiral Rejuvenation Qigong is a practice that can benefit everyone and offer a tool of empowerment to maintain a regular state of restful wellbeing.
Due to the depth of meditation we will all enter into, including the instructor, we ask that students do not come to class more than 10 minutes late. Participants are highly encouraged to arrive on time or even early so as to properly hear the instructions and have time for the practice.
Date: Tuesday, November 21, 2017
Time: 5:30pm – 6:30pm
Cost: $20 or 2 card stamps for returning students (details for stamp cards will be discussed in class).
Cash and Card accepted.
For more info about Stillness Movement Lineage and the practice of Qigong: www.qiclinicpdx.com