Events
Winter Zen Jinshin Workshop
with
Matt Shinkai Kane
Friday, February 22 @ 6:00pm - 8:00pm

$25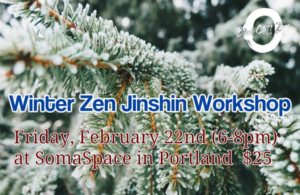 Zen Jinshin is an energy practice that releases tension and blockages in the energy meridians of the body and harmonizes their flow. Many energy lines run through your body and each supplies its area with the necessary energy and vitality. These meridians connect to your organs too and facilitate the transfer of energy between them. Each organ is closely associated with certain emotions so that, for example, aiding and releasing tension in the kidney and bladder channels helps you to release fear and lack of motivation while bringing more courage, inner strength, will power, and grounded-ness into your life (signs of strong, healthy kidneys/bladder). The kidneys and bladder are traditionally seen as the organs of the winter time.
Resistance in the meridian lines affects our health and well-being and can lead to illness over time if they stay blocked. Freeing these blockages makes us feel lighter, healthier, and happier.
Shinkai learned this practice from one of his teachers while living at Gyokuryuji Temple in Japan. It is based on the East Asian energy meridian system and has been used in one form or another at Zen temples for hundreds of years. Although helpful across the board, it is especially effective for people with an ongoing yoga or meditation practice. Opening your meridian lines lets you go deeper with your yoga/meditation practice. It's extremely good at freeing up un-dealt with feelings, physical tensions, and memories that lie beneath the surface of conscious awareness.
What you'll get out of the workshop:
-a solid foundation in what Zen Jinshin is
-practice using the flow sequences to release the kidneys and bladder lines
-direction with continuing this Zen Jinshin sequence at home as a meditation practice
Date:
Friday, February 22
Time:
6:00pm – 8:00pm
Cost:
$25 cash or Paypal
Contact bluecliffzen@gmail.com if this is a barrier to entry for you
To Register & Paypal: bluecliffzen@gmail.com
For more information: http://www.bluecliffzen.org
Sunday Morning Women's Clothing Swap
with
Jacqueline Rubinstein
Sunday, February 24 @ 11:00am - 12:30pm

$10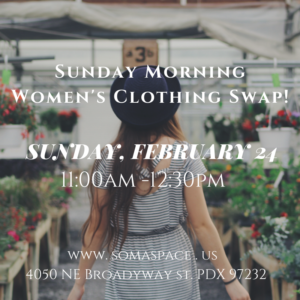 It's that time again! Join us for a special Women's Morning Clothing Swap! Release what is not serving you anymore and bring in new energy with the upcoming season and with a renewed wardrobe!
Join us at SomaSpace for a super fun morning of our women's clothing swap! Bring a bag of clothes that you're ready to retire for someone to reuse with new life and find a new wardrobe in return!
This seasonal event is So. Much. Goodness! We will be trading clothes, accessories, shoes and jewelry, hanging out, and building community around grown-up dress-up time!
Women of all sizes, all ages, all backgrounds welcome. Trans-women welcome.
Maternity, kids, and baby clothes welcome.
Please bring your own bags to carry your new threads home in.
We gather in the spirit of generosity and abundance. To this end, here are our house rules for the swap:
1. Once you have picked up a dozen things at most, try them on and put back what you don't want.
2. Do not hoard clothes. Be selective and take only what you truly want.
3. Pass along things that you think will fit better on other women.
4. Interact with the other swappers. Be mindful that your comments are not derogatory, dismissive, or put-downs in any way or could be misconstrued as hurtful or harmful in any way.
5. Relax, take a deep breath, and have fun!
All leftover clothes will be donated to Dress for Success Oregon, an awesome non-profit that offers professional attire and coaching for job interviews for women. They use non-dressy clothes for a tag sale fundraiser, too!
We have reorganized our system to have the clothes laid out by size instead of type ~ hopefully this will make the swap go more smoothly and easier for everyone to find some amazing gems!
Special Morning Swap!
Date: Sunday, February 24, 2019
Time: 11:00am – 12:30pm
Doors open at 10:45am.
Swap begins at 11:00am.
Cost: $10 at the door
(Cash highly preferred. Work trade available – please inquire at contact@somaspace.us)
Kids welcome, ages 12 & under are free.
Jade Egg
with
Kim Keller
Saturday, March 09 @ 5:00pm - 7:00pm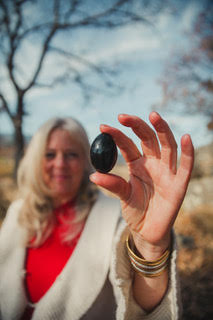 A Tool to Increase Vitality, Health & Pleasure
Use of a Jade Egg* is quickly rising in popularity! From multiple mentions on late night TV, to doctors affirming use of the egg as a pelvic healing tool, this ancient practice is proving to be a practical and profound tool of connection, healing, pleasure and bliss!
Rarely do we connect our vitality, health and overall well-being with our sensual and sexual selves. However, evidence points to a direct correlation between our health and our sensuality. Dr. Rachel Abrams, who co-wrote The Multi-Orgasmic Woman, found that women who work with the Jade Egg and other sensuality enhancing practices can lessen or even eliminate PMS, menopausal symptoms, aid in fertility and cancer prevention, as well as stimulate a wider range of orgasmic experiences.
Jade Egg is one of the many tools available to women for the enhancement of your sensual life. In this introductory class, Kim shares both her personal practice, and her years of experience assisting women with their own individual journey of healing, sensual opening and deep spiritual connection with the Divine through the path of the yoni.
In this introductory evening you will:
~ Learn the benefits of a regular Jade Egg practice
~ Gain a deeper understanding of the internal and external landscape of yoni, and how it interacts with the egg
~ Appreciate the benefits of other sensuality enhancing exercises
~ Share movement practices to enliven your sexual center for increased pleasure (with or without the egg)
~ Enhance your spiritual practice for connection to the Divine
~ Gain a tool for emotional clearing and healing
Note:  This introductory class will not include the actual use of a Jade Egg, however, Kim will be offering a full day Immersion on Sunday, March 10 that utilizes Jade Egg as a healing tool.  Click here for more info (http://kimrosekeller.com/jade-egg/)
*Jade Egg is made of natural jade (called nephrite) and carved into the shape of an egg and inserted into the yoni (vagina).  These eggs may or may not have a hole drilled in them for use with a string for additional exercises and/or removal.
Dates:
Saturday, March 9, 2019
Time:
5:00pm – 7:00pm
Cost:
$15-20 sliding scale
Cash, check and credit card accepted
Drop-ins welcome
For more information and to register: kimrosekeller.com/jade-egg/
Heart Wisdom
with
Lorin Purifoy
Sunday, March 10 @ 3:00pm - 5:00pm

$55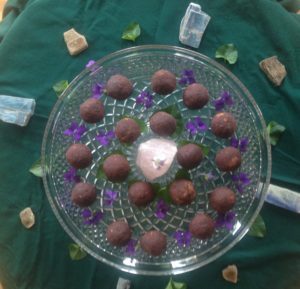 Cacao and Vibrational Medicine Ceremony
I'm thrilled to offer my first cacao ceremony since returning to Oregon this summer!! I began offering these in 2012 after receiving guidance to do so.
We'll be working with wild, ancient strains of cacao harvested and prepared in the traditional Mayan manner. This cacao contains significant levels of neuromodulators and neurotransmitters, like serotonin and is loaded with around 1200 constituents. I craft 'Bliss Balls' infused with my Spirit Remedies geared towards the intentions of our Circle and those participating.
After studying some foundational Taoist Stone Medicine from the Jade Purity Lineage while living in Appalachia, I now pair these ceremonies with on-the-body Stone Medicine Treatments and open channel my Spirit Language (or what others call 'Light Language' or 'Speaking in Tongues') for a powerful alchemy of transformation. Everything that exists has a specific frequency and these tools weave together in a dynamic manner! This is truly a multi-layered experience.
I'm calling this circle Heart Wisdom because even though there's still much grief and heartache to transcend, our hearts are wise guides and have their own Gnosis. For our stone medicine treatment, we'll be working with Lepidolite on a primary acupuncture heart point. Lepidolite is one of my heartthrob stones, and I'm excited to share its soothing and uplifting benefits with you.
I love creating a safe, beautiful and loving container for my ceremonies and SomaSpace is a perfect fit! This is going to be a VERY special evening and I'd LOVE for you to come join me!
I'm able to welcome 20 folks. Pre-Payment is necessary to hold your place.
** Essential Details ** 
** You'll need to Register to hold your place by February 3rd through my website – www.yourplacetoheal.com/cacao–stone-medicine.html (credit/debit and paypal are payment options on my website. I also welcome VenMo to @Lorin-Purifoy)
** Given the nature of this Ceremony, There are No Refunds.**
You're welcome to transfer your place to someone else provided you notify me in advance
OR
Hold this as a credit towards my next circle
** Please let me know asap if you have food sensitivities so I can determine if I need to make a special batch. **
** If you are on medications that are MAO inhibitors, this cacao + your meds DON'T MIX. **
** "Many antidepressants do NOT mix with the tryptophan and MAO (Monoamine Oxidase) Inhibitors in this cacao." Typically consuming a lower dosage will be fine (which is one reason I create Bliss Balls, so you can adjust your dosage, and I'm using the lower end of a moderate dosage.)
Please google your prescription.
"Heart conditions: cacao increases heart rate and is a vasodilator, opening blood vessels, increasing flow, and reducing blood pressure if it is high. Go easy at first with very low blood pressure – though it is rarely a problem (for most, cacao increases low blood pressure)."
Specific details will be emailed a few days prior to our ceremony.
Date:
Sunday, March 10
Time:
3:00pm – 5:00pm
Cost:
$55
Registration:
Pre-registration required
Register at www.yourplacetoheal.com/cacao–stone-medicine.html
For more information: aplacetoheal@gmail.com
Theabroma Cacao
with
Erika Ryn
Friday, March 15 @ 6:00pm - 9:00pm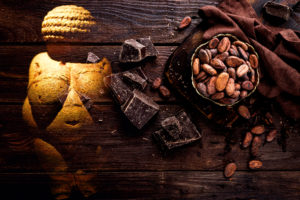 A Monthly Women's Gathering
Theabroma – from the Greek "thea" meaning "goddess" and "brôma" meaning "food"
Cacao – the divine food of the Goddess is and the heart opening inspiration for this monthly gathering of women and femme-identifying folks.
Women have been creating gathering spaces to share, heal, dance, play, create, celebrate and support each other since the dawn of human history. In gathering together, we are reaching back to those ancient times, when women were revered as the bringers of life and the Goddess was held in high regard.
Each month, we will explore a different theme together through dance, guided meditation, sharing, listening, reading, journaling, poetry, or other means of introspection and inspiration.
We will open our evenings with a ceremonial cacao circle. Cacao has been revered by warriors, healers, and shamans for its nourishing, energizing, and healing properties for over 3,000 years. In addition to it's mystical heart opening qualities, cacao is a nourishing food containing essential minerals such as magnesium, antioxidants, B vitamins, and heart-healthy fats.
Please bring a water bottle, a favorite teacup for cacao, journal, and wear comfortable clothes you can move in. Yoga mats and blankets are provided.
Dates:
Fridays
January 18
February 15
March 15
April 19
May 24
Times:
6:00pm – 8:00pm
February 15, 6:00pm – 9:00pm
Cost:
$25-40, sliding scale, each date
Payment will be due in cash or check upon arrival. If you cancel in less than 48 hours or do not show up, you will be charged $25. This does not apply in cases of emergencies.
Space is limited to 17 participants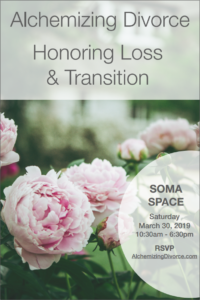 Honoring Loss and Transition
To alchemize is to transform the nature of something into a new form, seemingly through magic. The termination of a long-term, committed, monogamous relationship is a powerful process, one that is often private, and sometimes includes a sense of failure or shame. Grief and loss are significant companions, and so, too, are hope and courage. Divorce is a deeply private event, and isolating at times. Yet we believe that connection and ceremony are the magic we need to regenerate from this process into a new form.
This workshop welcomes all persons who are currently moving through the process of divorce, or did so in the past, and who are called to honor this transformation. We will gather and create a safe, interactive, heart and body centered space. We will explore stories that no longer serve us; stories we inherited from the larger culture, stories we tell ourselves, or even stories we imagine others tell about us. We will then transform these meanings and embody what we want our story to be today and tomorrow. The magic of storytelling, connection, movement and ceremony will all be present to support us into the becoming of our true selves.
We ask you, what did you give up or lose to move through this process? What does this transformation clear out and open up for you as you move into a new tomorrow?
Dates:
Saturday, March 30, 2019
Time:
10:30am – 6:30pm
Cost:
Early Bird price if paid by 2/28: $155
Regular price: $211
Registration: 
Pre-registration required
Register at www.alchemizingdivorce.com
For more information: alchemizingdivorce@gmail.com / www.alchemizingdivorce.com
Spring Burlesque Showcase
with
Audrey Steele
Saturday, June 01 @ 7:30pm - 9:30pm

Parking in the A-Boy parking lot is permitted during this offering. A parking permit provided by SomaSpace is required. Please read the parking regulations on our Contact page before arriving.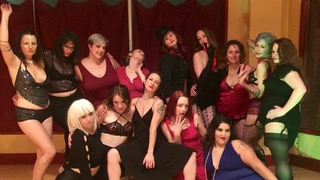 Please join us for an evening of tantalizing seduction as Madam Steele and her students present their Spring Burlesque Showcase. Get a peek into what's been happening behind the curtains for the last eight weeks. We invite you and your friends to join us as conscious and supportive audience members as each woman takes to the stage and claims her space, sexuality, and power.
This is a very special evening not to be missed where we celebrate all bodies and expressions of sexuality through the art of striptease.
Come be dazzled and delighted, and offer your applause!
Date:
Saturday, June 1
Time:
Doors open at 7:30pm ~ Show starts at 8:00pm
Cost:
$10 cash at the door
To reserve your ticket in advance: www.audreysteele.com
(space is limited!)
Dress to impress or come as you are!