Events
Illuminating Shakti: Dancing Meditation for Emotional Healing
with
Katherine YogaMayi Russ
Saturday, January 27 @ 4:00pm - 6:00pm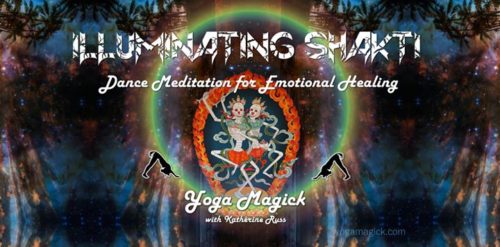 Katherine YogaMayi Russ is visiting Portland to invite you into a glimpse of just how much deeper our yoga can go—beyond asana practices. Beyond the physical body, with the Pranic body, through the wisdom body, and into our bliss.
Bring something hydrating to drink (like water), wear something comfortable, and get ready to enjoy something incredibly special.
This healing trance dance is part of the Right Hand Path Shakta Tantra tradition, stimulating the gentle healing aspects of the primal psychic energy known as Kundalini Shakti.  This ancient practice is a safe and joyfully direct path for coming into your birthright of the natural bliss state & Truth Consciousness Bliss that is Sat Chit Ananda.
Enjoy shaking, dancing, and sounding vibrations through the chakras as a means of deepening our development in our meditations.  Not only are we clearing the field surrounding our chakras, we are releasing emotional baggage associated to traumas, in favor of soaking up a delightful rush of creative unconditionally loving energy.
The healing effect of this practice is excellent for emotional healing, clearing us of the anxiety, pain, and sufferings of stuffed, repressed emotions.
Invite the new energies of 2018 as we make room for divine creative energy.  May we be inspired to perform at our optimal levels in life and find great success in doing the things we enjoy.
2018 calculates to 11, which is 2.  2018 is a great number that expresses shifting from a multiplicity into union, therefore this is a great time for us to be inviting such a shift through this special dance of yoga-union with the individual and supreme flow of ecstatic creative and unconditional love that is our Shakti.
Prior to the practice, the venue space is first prepared by creating an intentional container to ensure the safety of all participants.  This way we may be kindly held with with unconditional love and experience a sense of vulnerability in this sacred practice.
Date: Saturday, January 27, 2018
Time: 4:00pm
Please arrive on time as the doors will lock by 4:15pm. 
Registration: 
Payment is optional. Please contact and RSVP at:
http://www.yogamagick.com/illuminating-shakti-registration—portland-or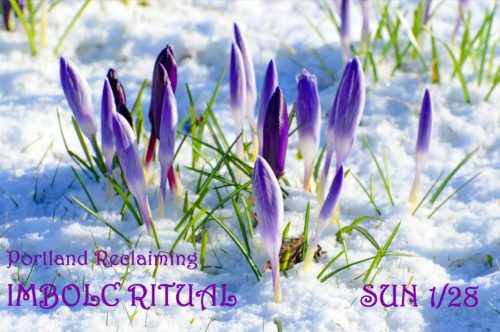 Colluding in the Darkness Against Empire,
We Promise Our Liberation Together And Ignite Our Solidarity
Our workings this evening will involve varying levels of emotions, some movement, and interpersonal engagement. Please be your own authority in providing self-care and attending to your needs. We strive to create a space that is safe enough for people to encounter and explore generative discomfort.
What to bring (optional):
— Your stone from this year's Samhain ritual (additional stones blessed in ritual are available for those who weren't at Samhain).
— A snack item to share post-ritual, with ingredients clearly labeled.
What not to bring:
— Please come to ritual scent-free. If you would like to learn more, read here:
http://www.anapsid.org/cnd/files/how2bscentfree.pdf
— Please do not bring pets or familiars.
— Please come to ritual free of intoxicants or chemically induced altered states. In the Reclaiming Tradition, magic is essentially and inherently consciousness altering.
We strive to make our events as accessible as possible. If you need or want a chair to be comfortable in ritual,there are chairs provided, and know that you will be included. Soma Space is a shoes-off environment but there will be shoe covering "booties" provided if there is a medical need to wear shoes in the ritual space; if so, please reach out to Traci Emerson (contact info below). There are two bathrooms available for use before, during, and after ritual.
Children are welcome to attend, but this ritual is planned for the cognition, attention space, and distress tolerance of adults; they may find it confusing and/or challenging. Child care is not provided.
Date: Sunday, January 28th, 2018
Time:  5:30pm-8:30pm
Doors open at 5:30pm, ritual begins promptly at 6:00pm.
Doors will be locked at 6:00pm to help maintain the strength of our container.
Cost: Five volunteers have spent around six hours a piece (so far) helping craft this ritual. We are asking folks to make a sliding-scale donation of $10-$20 to cover the costs of renting the space–all organizers donate their time. Please pay what you are able to help support community rituals in our area.
No one will be turned away for lack of funds.
For more information contact Traci: traci.emerson@gmail.com
Event Page: https://www.facebook.com/events/116413239147720/
Nectar Fusion
with
Antje Schaefer
Saturday, February 17 @ 9:00pm - Sunday, February 18 @ 1:00am

Usually recurs every 3rd Saturday.
Parking in the A-Boy parking lot is permitted during this offering. A parking permit provided by SomaSpace is required. Please read the parking regulations on our Contact page before arriving.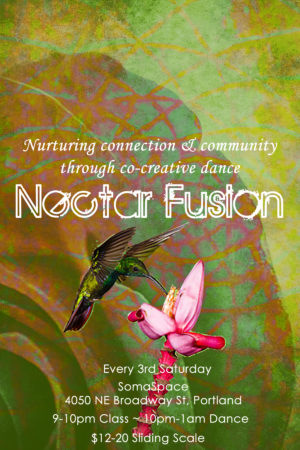 An incubator for exploring deeper connection through co-created movement
Join us for monthly nights of movement education, dancing, and exceptional music in this nurturing connective space. While the common language shares the framework of traditional social dance, creative expression, authentic connection and play take precedence over form! We believe stronger communities form where life is celebrated in music and dance with one another and see dance as a language with the power to bridge interpersonal and cultural divisions.
Our intention is to provide:
*A welcoming, inclusive environment that feels safe and judgment-free
*A gateway into the partner dance world and creative expression
*A nexus for community and authentic connection
Each event includes an ALL LEVELS class that supports up-leveling dance connection and skills, and three hours of dancing, with occasional cutting-edge LIVE musical acts.
Dates:
January 20, 2018
February 17, 2018
March 17, 2018
April 21, 2018
May 26, 2018
June 16, 2018
Time:
Class: 9:00pm – 10:00pm (no partner or experience necessary)
Dance: 10:00pm – 1:00am
Community Social Time: 1am+
Cost: $12-20 sliding scale, cash only (class included)
For more information, check out the Nectar Fusion Facebook group for upcoming event details and other special events and community outings.