In honor of Valentine's Day we are extending our 2021 New Year's Studio Special!
**Get in touch to reserve your time!**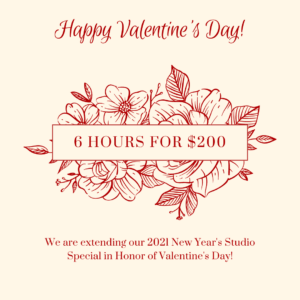 Give yourself or a loved one the gift of studio space…
6 hours of private studio time for $200
That's 40% off our regular rate!
For $200 you get:
~ 6 whole hours of SomaSpace all to yourself
~ You can use this time all at once or spread out over time.
~ This is a 40% discount off our regular weekend rental rate!
~ *BonusOffer: if you use this time for recording an on-line class, we will offer our full marketing package as part of the deal to help you get the word out!
You can use the time for:
~ Your private movement practice
~ Recording and/or streaming your online offerings
~ Taking a zoom class or workshop with space to move
~ Hanging out in a safe space away from home 

To take advantage of this special, you must complete your booking with a signed contract and 100% payment before March 1, 2021. Your studio time can be booked for anytime from February to May, 2021.

Terms:
* 6-hours minimum is required (let us know if you'd like to work out an arrangement for more time)
* Time can be used for one single studio session, or spread out over multiple sessions
* 15-minute grace period before and after all bookings, free of charge
* Must agree to use hand sanitizer upon entering, wipe down surfaces used, and complete cleaning protocol before leaving the studio to help us all maintain a safe, clean, healthy space to move in.
* For all rentals, there is a refundable $250 security deposit (we can hold a check for this)
* Our regular cancellation policy applies (inquire for details)

In response to Covid-19, we have implemented a new detailed cleaning and safety protocol and are providing renters with masks, hand sanitizer, cleaning supplies and instructions for sanitizing at the end of their time at the studio. We are doing our best to ensure a safe and healthy wellness center for everyone!
Take advantage of this deep discounted deal now!

To officially book, we require a signed contract and 100% of the total rental fee upfront by March 1, 2021.
The studio is wheelchair accessible and one block from the MAX Hollywood Transit Center with free parking on the street.
To take advantage of this deal and reserve your studio time email us at: contact@somaspace.us