As I waited my turn to speak, I could sense a growing unease within my body, in the form of a churning belly, a quickened breath, and racing thoughts. As each person spoke and my turn grew nearer I felt a growing alarm. I wondered why my previous calm had disappeared.
Then, the person before me spoke. Her voice trembled and she could barely get the words out. She choppily worked her way through the story of what brought her to the advanced training and my anxiety fell away as I listened. Any sense of churning and breathlessness and unease were gone, vanished in the few minutes it took her to finish.
I took my turn and shared my hopes for my time at the training with Russell Delman but I had a sense I had already experienced what I came to learn. I sensed the lesson of thinking someone else's anxiety was my own and would remain with me always.
It was there, among my colleagues and with Russell's particular way of framing the issues of being present that the issue of embodying my life was brought into such clear focus. It was there I gained the awareness that anxiety was one of the components preventing me from being present to the moment.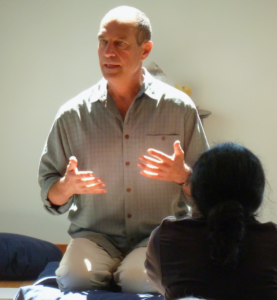 This year Russell will again be in Portland, in a session he titled, A Safe Harbor in the Storm: Cultivating Grounded Presence, Warm-Heartedness and Joy in Challenging Times. He will bring his current thoughts of living within a tumultuous and challenging environment. He will share stories of others who've struggled and ask us to sit with him in practicing presence.
 The combination of activities in the weekend workshop with Russell includes meditation, Feldenkrais Awareness Through Movement, and focused inquiry. These methodologies might be familiar to you. What is unique is the frame Russell puts around our ability to discover our patterns of disembodying ourselves. We will practice interrupting the compulsion to let go of the present moment. We will deepen our understanding of old stories and loosen their hold on our actions.
Russell frames the intentions of the workshop in this way
– to be the best friend of all our inner voices
– to meet divisiveness and conflict with authentic confidence and care
– to experience the shower of beauty and goodness that surrounds us
I don't know about you, but as a practitioner of the Feldenkrais Method for over twenty years, I find I still benefit from a weekend guided by an elder in the practice of staying in curiosity, remaining present to the moment, and reframing the stories that lead me to my most genuine actions. I find it inspiring to sit among so many of my peers, my students, and other community leaders. We open our awareness to this moment of time, while in community, in a way that doesn't involve getting bogged down in a particular perspective on current events.
The sessions with Russell lay the groundwork for going into the community and listening to one whose view differs from my own. I find the weekend to be a restorative salve for my weather-beaten spirit. And, at the end of the weekend, my jangled thoughts have smoothed and my inner angst has calmed. I recognize more of myself, the me I know, that creates room to know more options and possibilities.
* * *
Russell will give a free talk on Friday evening, May 19, at 7:00pm. This is open to the public, anyone may attend. Any donations you feel moved to offer will be shared with the City of Joy in the Congo and The Blanchett House in Portland. Please arrive early enough to find parking and settle so we can be present in welcoming Russell's offering.
A Safe Harbor, the weekend workshop, will be Saturday and Sunday, May 20 & 21, 10:00am – 5:00pm. The workshop is at SomaSpace, an urban retreat. $225, early registration $195 before April 29. For more information on this event find it here. To learn more about Russell and register for the event, click here.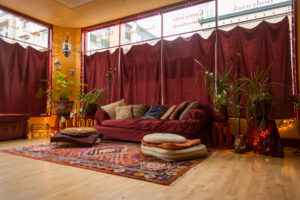 To reach Kim Cottrell for questions and more information, call 503.890.6865 or email kim@kimcottrell.com.