Jacqueline Rubinstein, Director of SomaSpace & Feldenkrais Practitioner
A new, young client started individual sessions with me a few weeks after experiencing a series of concussions. She's a freshman in high school and is on a leave of absence to rest her brain. After her latest concussion, her nervous system is on over-drive, and she is experiencing extreme anxiety. At times it is completely debilitating.
 
Her physical therapist suggested she practice deep, belly breathing for five minutes every day. She hasn't been doing it because it is too hard to focus for that long a period. Her brain just isn't up to it yet.
 
At our first session, I suggested she focus on one or two deep, belly breaths rather than struggling and failing for that five minute mark. That's enough. Just one or two deep breaths.
 
Reducing the exercise to something she can manage right now has had a huge effect. She proudly reported back that she got up to five deep breaths with full focus. Lowering the expectation made the solution accessible to her.
 
Now she knows she can use the deep breathing when she feels anxious. Her anxiety has gone from "thinking everyone is going to kill me" to "it's uncomfortable to be around too many people." This is a huge success!
 
Dialing back to what is easy and accessible at this moment allowed her to take a step forward in her healing, rather than struggling with no avail.

I have been thinking about this story as an inspiration of how to face New Year's resolutions. There are many things I would like to accomplish in 2018. How about you?
 
Usually New Year resolutions are these big, sweeping commitments that one wants to make with oneself. Often the resolutions are so big and overwhelming they are hard to sustain or even begin.
 
So how can you dial back your resolutions to that first approachable step?
 
I am hoping to start swimming for exercise again. My goal is to get to the pool 4 times a week. I feel the resistance, the inertia, the struggle to get going towards my goal that I set for myself.
 
What's the first little step towards my goal? Get to the pool.
 
That's it! Just get there. My first mark of success will be getting in my bathing suit with my goggles in hand. Getting to the pool, figuring out the locker system, and dipping into the water. Yes, I imagine I will swim a few laps, but the goal is just to get there and start to acclimate to this new rhythm!
 
As I think of my larger goal, I feel a bit of intimidation. After that initial burst of excitement wore off, I am left with the desire, but also a question of how to make a smooth, sustainable transition. How to make it work, in a way that I can maintain!
 
Baby steps.


 
Taking things one little step at a time. Once I make that first step of checking out the scene and acclimating, I will add the next step. Getting to the pool, ready to swim, and doing two laps of each of my four favorite strokes: front crawl, breast stroke, back stroke, and side stroke (right and left sides).
 
10 laps – start with just 10 laps. I am choosing an amount that easy for me because I want to start out without struggling and allow my curiosity and inner desire to be the guide. I will build as I feel my engagement and endurance towards swimming increases. 
 
The trick is to create new habits by making small steps towards your goal. Slowly building in an accessible way that allows time for your brain to make new synapses and build strength with the new habit over time.
 
This is also how the Feldenkrais group classes work! It is a physical practice of how to break down a tangible movement pattern, like turning, into simple steps that gives time for your brain and nervous system to integrate new information, strengthening the neural pathways that can provide you with easy, comfortable movement.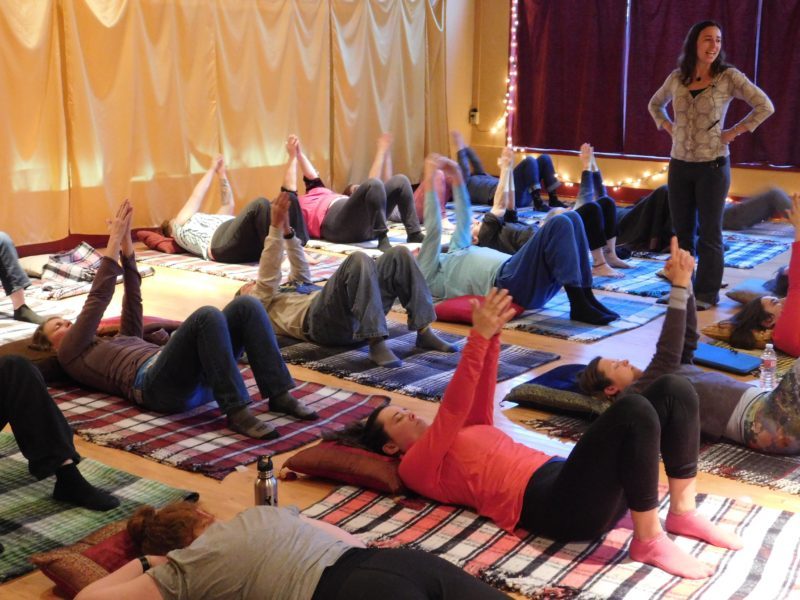 Class will also teach you how to build new habits in sustainable ways, that harness the power of your nervous system and brain, making integration not only possible, but simple!
 
Want to experience what I'm talking about for yourself? Right in the comfort of your home? Well, pull up a blanket, lay down and push play on the linked recording below.
Try this free class recording and find out what it feels like to make small, slow steps that build into a new way of being in movement. This is the live recording from the free introductory class last week, and I am offering it to you as a gift and an inspiration!
Free Live Class Recording: feldenkraisportland.com/free-intro-class/
This is a tangible way to feel how baby steps can make big changes and the power of doing bite-size steps that your nervous system can really take in, make sense of, and integrate into lasting relief!
Enjoy! And let me know what you think 🙂
Healing Chronic Pain:
gentle movement and awareness exercises
Winter Series *Begins This Week*: January 19 – March 9
(In-person & On-line Options)
Fridays, 10:00am-11:00am
This class is for the movement curious, anyone who is ready to expand your ability to feel and know yourself, while feeling more comfortably in your body. With slow, gentle, subtle movement, you will discover a profound realm, where you can change the neural pathways of your brain to have more flexible, fluid, and energy-efficient patterns.
Are you ready to feel better in an efficient way that utilizes tiny movements, minimal energy, and gets big results?!
In these classes, you will be led through gentle, easy movement sequences, that will give your brain the necessary information to start using new movement habits and get out of the old painful patterns.  You will leave class feeling lighter, more flexible, and taller. You will have a sensation of effortless – what a relief!
 
Learn how to utilize the power of your brain to change (neuroplasticity, that is!) through the natural movement patterns of motor development.
 
No matter your age, your brain is ready to learn and find ease and improvement for you! The work we do together in this class seamlessly integrates into an improved daily life.
 
Ready to feel the difference?!
Winter Class Series
In-person and On-Line options available
Dates: January 19 – March 3, 2018
Time: Fridays, 10:00am – 11:00am*
Location: SomaSpace, 4050 NE Broadway St, Portland, OR 97232.
*Also, available for on-line subscription ~ you can take this class anywhere, at any time that works for you!
Cost: 
8-week Winter Class Series (in-person and recordings): $96
To register: https://www.paypal.com/cgi-bin/webscr?cmd=_s-xclick&hosted_button_id=4QBMEZDSPFTEU
or bring cash, check, or card to the first class this Friday! (Checks made payable to: Move with Ease)
8-week Winter Class Pass On-line (recordings only): $58
To register: https://www.paypal.com/cgi-bin/webscr?cmd=_s-xclick&hosted_button_id=EVL44SLBUEBCU
Walk-in to any class: $15/drop-in
For more info about this class offering: feldenkraisportland.com/healing-chronic-pain/